By Yeeun Grace Shin, AsAmNews Intern
In commemoration of Asian Pacific American Heritage month, talented Asian American artists across the country are joining hands for a 2-day virtual music festival called Fresh off the Vote, this Wednesday and Thursday. You can watch it live on Twitch.TV.
Artists ranging from musician AJ Rafael, ALVYN and DJ Ramen will perform online over two day to blast out the importance of voting in an age of increased anti-Asian hate.
Fresh off the Vote is a livestream event which BTO Collective Twitter dubbed "more than just a festival". Launched by the 2020 Project and Better Than One (BTO) Collective, the virtual music festival encourages Asian American and Pacific Islander (AAPI) youth in the community to "pursue and engage in their passions."
Andy Au Bui, performing under the artist name SATORI admits he was initially hesitant to participate because he was preoccupied with other work. Yet he understood that he "couldn't pass up an opportunity to be a part of a cultural event to celebrate AAPI inclusion and empowerment."
"In our current COVID-era, we [AAPI] all understand now more than ever that public policies matter, and policies in themselves have consequences," he said. "The best way to increase our voice and influence in the political process is the vote. It's not the end-all, but it's a good first step!"
AsAmNews has been enlisted by the 2020 Project and the BTO Collective as a supporting organization for the festival.
The 2020 Project was created in 2016 by Jenni Huynh, who was External Vice President of Union of North American Vietnamese Students Association at the time, and Phil Chung, the Creative Director at You Offend Me You Offend My Family Network. The project aimed to register 100,000 AAPI to vote for the 2020 Presidential Elections through active voter education, collaborations with AAPI influencers, and engaging events like Fresh off the Vote.
Huynh found promoting voter registration among AAPI youth to be important because "they [AAPI] are the fastest growing minority population in the United States, yet we [AAPI] are the least represented at the polls. Whether AAPIs are apathetic towards voting, feel their voice does not matter, or feel unprepared to cast their ballot, the 2020 Project team is working to break down barriers and show how voting does make a difference for our community."
The 2020 Project's Campaign Manager, Thao Tran, determined the best way to do so was by engaging AAPI youth to the music world, filled with talented AAPI artists performing acoustic to electronic dance music sets.
That is why she got together with BTO Collective, a music organization comprising talented producers and DJs.
Chad Dominic Sahilan, a member and Public Relations Manager of BTO Collective, explained to AsAmNews how he actively recruited AAPI artists to participate in this event.
Sahilan said that he was more than happy to be part of an event that "advocates for and empowers our community's voices because it is nothing short of humbling." He emphasized how excited he was to be able to present and participate in a lineup full of Asian American talent as he "wanted to help represent a community whose voices throughout the current media and political landscape are often overshadowed and underrepresented."
Ramon Chanco, also known as DJ Ramen, shared with AsAmNews that he strongly supported voter registration among AAPI youth because he learned that "every voice has the right to be heard regardless of age, gender, race or religious belief".
Born in the Philippines and raised in Southern California from age 9, Chanco recalled, "I remember feeling embarrassed to fumble some Tagalog words mid-sentence while speaking to my American classmates – discouraging me from speaking out and ultimately feeling like my voice didn't matter. As I assimilated the American culture, I learned more the importance of freedom of speech."
"I realized that you need to be the change you want to see in the world. No matter how big or small, always bridge the gap because you're not the only one going through the same hurdles. As one of the fastest growing demographics in the United States, Asian Americans need to exercise their right to vote in order to act on change that would benefit our country," said Chanco.
As Fresh Off the Vote is on the same month as Asian Pacific American Heritage Month, the Asian American performers also shared their words of encouragement to AAPI youth.
Chad Dominic Sahilan, who will be performing in a 30 minute DJ set with some of his favorite EDM genres said, "Don't just follow your dreams — chase them down. Don't let Asian American career stereotypes hinder you from chasing your dreams either. Work hard, play hard. "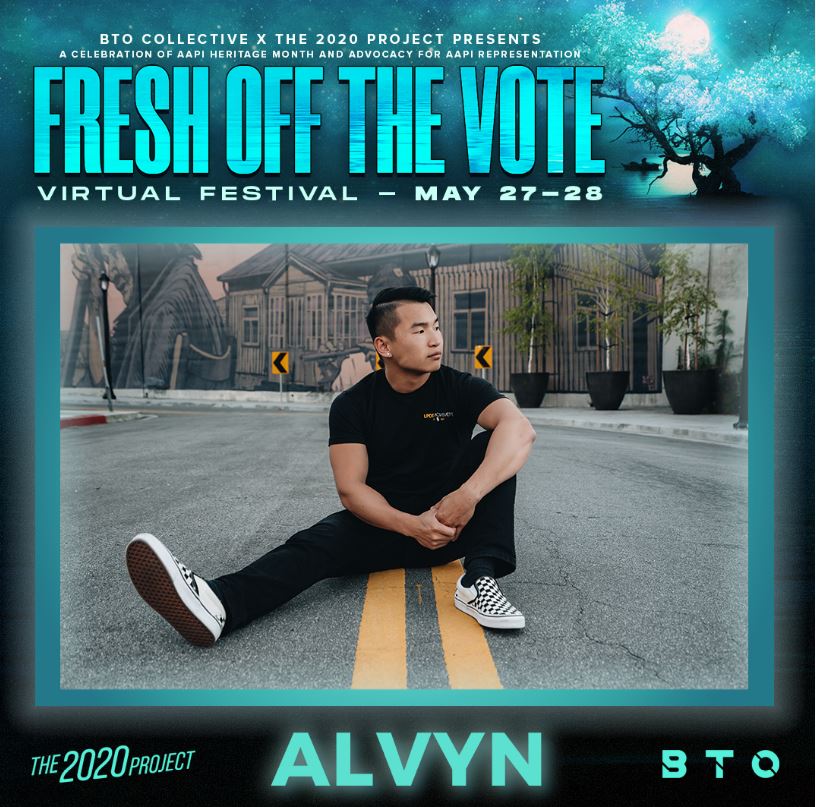 Alvin Lee, more known to the public as ALVYN said, "Pursue your passion. I've had so many people tell me how much they regret not pursuing their passion, but seeing me and all of my other friends in BTO Collective really inspires them, so I urge you to not be afraid, because you will clear up
your doubts and find happiness in the journey!"
Satori also shared, "Learn the history of Asian Americans, our struggles, and how we got to where are today. Go out and vote, and encourage others to do the same."
Fresh Off the Vote will take place on twitch.com/btocollective on May 27-28th (Wednesday & Thursday)
You can register or pledge to vote here.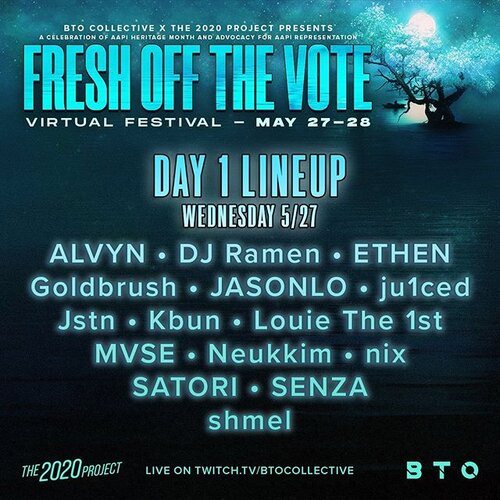 AsAmNews has Asian America in its heart. We're an all-volunteer effort of dedicated staff and interns. Check out our new Instagram account. Go to our Twitter feed and Facebook page for more content. Please consider interning, joining our staff, or submitting a story.