By Lillian Bit
I attended the rally organized by MC China Mac to protest the hate crime and attack by two men who allegedly slapped an 89 year old Chinese woman and set her on fire on a street in Bensonhurst, Brooklyn on July 17th, 2020.
RELATED: HUNDREDS GATHER FOR ASIAN UNITY MARCH IN BROOKLYN
MC China Mac was a leading and powerful voice, and his presence served greatly to demonstrate the passionate feelings of many who felt that this was one of the last straws that Asians were willingly to put up with. There have been thousands of attacks against Asians during this Covid time.
China Mac who is a necessary and formidable force made a riveting, powerful and passionate speech to speak out against the attack. Other powerful voices at the rally included MC Jin and political activist William Lex Ham who carried a mighty megaphone. Ham carried a huge message and megaphone in Seth Low Park and along the route of the Bensonhurst march. We chanted "No More Silence, We Must Fight".  "They Can't Burn Us All," "Racism Has to Go," and "This Is What the Community Looks Like." Brooklyn Boro President Eric Adams made an impassioned speech.
The rallying cry China Mac and I strongly have in common and the most important takeaway is the perception of Asians are docile, complacent, quiet and never make noise. And that must stop if we are to make changes in that perception, so we are not taken advantage of. Silence never helps. We Asians must speak up in the face of racial injustice. We must no longer remain silent in the the face of such heinous attacks, such as this one and thousands of other attacks just recently across the nation and globally. It's time for a Asians to carry a large megaphone and speak up loudly against racial injustice.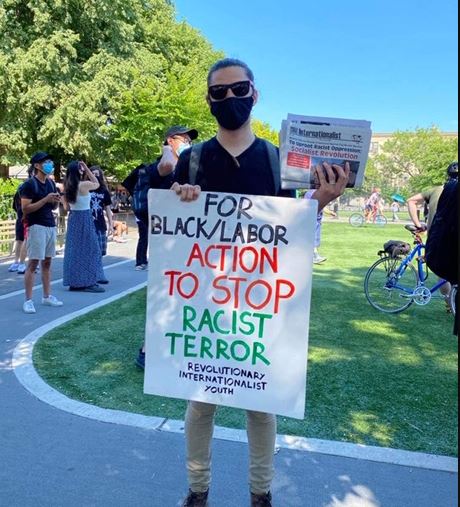 AsAmNews has Asian America in its heart. We're an all-volunteer effort of dedicated staff and interns. Check out our new Instagram account. Go to our  Twitter feed and Facebook page for more content. Please consider interning, joining our staff, or submitting a story.