By Briana Lim, AsAmNews Intern
San Francisco is providing $26.5 million in funding towards building a new arts and media center in Chinatown, organizers announced today.
The center, called Edge on the Square, will be a destination spot for tourists visiting the city, and the first in the state to focus on Asian and Pacific Islander culture and history.
Its planners, Chinatown Media and Arts Collaborative (CMAC) hopes the Edge will bring "a fresh narrative of equity and inclusion, fostering greater understanding through the works of artists, performers, activists, technologists and educators."
CMAC is a unique coalition of AAPI organization working together to make Edge on the Square a reality. It includes Chinese for Affirmative Action, the Center for Asian American Media, the Chinese Culture Center & Foundation of San Francisco, the Chinatown Community Development Center, Angel Island Immigration Foundation and the Chinese Historical Society of America.
Asian American Assemblymember Phil Ting, who pushed for the funding, explained, "The alarming increase in hate incidents against members of the API community tells us we must invest in ways to educate people by promoting the numerous contributions and value that APIs have brought to the fabric of California and this country. Edge on the Square will be a place to learn and open minds, while also giving our API community a safe space to be seen and heard."
San Francisco has a large Asian American population of over 30%, and its Chinatown is the oldest in the U.S., making it an AAPI cultural hub for the nation. However, since the onset of the pandemic, San Francisco has seen a 140% increase in documented hate crimes, the LA Times reports.
Assemblymember David Chiu hopes "By uplifting our community's experiences, this once-in-a-generation project will celebrate equity, inclusion and social justice, and ensure Chinatown is a beacon for generations to come."
Edge on the Square will not only serve an educational purpose—its planners expect it to galvanize the tourism and hospitality sectors of the town. According to organizers, Edge on the Square is expected to attract 250,000 visitors and tens of millions in revenue for the surrounding bars and restaurants.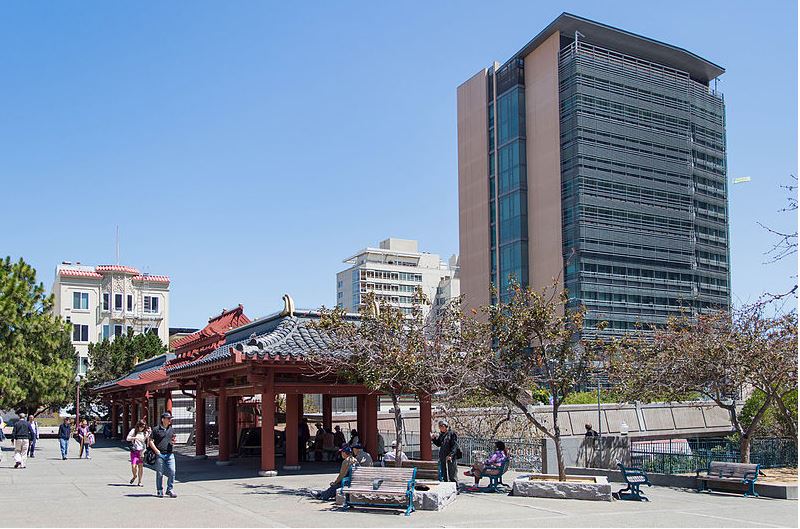 In a heartfelt speech, project leader Mabel Teng explained how the name "Edge" refers to its location besides the historic Portsmouth Square, and that the name also serves a second, symbolic meaning. "We are at the edge of recovery, on the edge of having an even stronger AAPI voice," she proclaimed.
The Edge on the Square is slated to open in late 2024.
AsAmNews has Asian America in its heart. We're an all-volunteer effort of dedicated staff and interns. Check out our new Instagram account. Go to our Twitter feed and Facebook page for more content. Please consider interning, joining our staff, or submitting a story or making a contribution.