By Julia Tong, AsAmNews Intern
Chinese adoptee Sarah wanted to reconnect with her Asian roots. Having been adopted as an infant and raised in southern Ohio, she initially wanted "nothing to do" with her Chinese heritage as she grew up. In college, however, she became interested in exploring more about the culture, history, and political landscape of the country she was born in.
In order to do so, she joined Alike, a dating and friendship app designed for Asian Americans.
"[I] want[ed] to get back to my roots, to be able to connect with other people of Asian descent," she said to AsAmNews. Using Alike, she found, allowed her to easily "talk to people that have gone through similar experiences—whether it be being adopted, having family or just growing up being Asian in America."
Sarah is one of the thousands of users who have found community and connection on Alike. Since its closed beta test in December 2020 and a subsequent soft launch in August 2021, the app has garnered praise from Asian American users who felt the app provided a safe and welcoming environment that allowed them to celebrate their unique cultural identities.
For Alike founder and CEO Hanmin Yang, however, the app is not just a platform for Asian Americans to find community. He hopes that Alike will create a space that encourages self-love and allows users to heal from the scars of internalized racism.
Yang immigrated from South Korea to Canada when he was eight, and learned to navigate Canadian society, culture, and language by watching copious amounts of television and film. The exclusionary and White-dominated media landscape, however, took a toll on his mental health, as he realized how Asians were mocked, dehumanized, and othered by mainstream media.
"What I learned from watching television and film was that Asians are second-class citizens in North America," Yang said to AsAmNews. "They're invisible. They're not represented in the media, and the few times that they are, they're depicted in negative ways. They're caricatures and stereotypes."
Yang still vividly remembers being "horrified" by the racist Asian caricature that White actor Mickey Rooney played in the film Breakfast at Tiffany's. He was also dismayed by the numerous stereotypes Asians were forced into: women who were portrayed as fetishized and submissive, men depicted as asexual martial arts masters, or nerds.
"What I learned from that was that I'm unwanted and nobody will want me and unfortunately, without even me being aware of it, I internalized a lot of that," he said. "And that led to leading a life with low self-esteem, enduring depression."
Yang says he hit rock bottom after a failed marriage.
Creating Alike was a way for Yang to heal from those "scars of trauma and internalized racism." Inspired by his own experiences, he was determined to create a platform that advocated for Asian Americans to also find self-love, affirmation, and healing like he was able to.
"I know others like are out there. And we want to find each other and find a sense of community and a sense of belonging that we don't have in this society," Yang said. "I wanted to create that platform where people like myself could make meaningful connections…as a way to heal."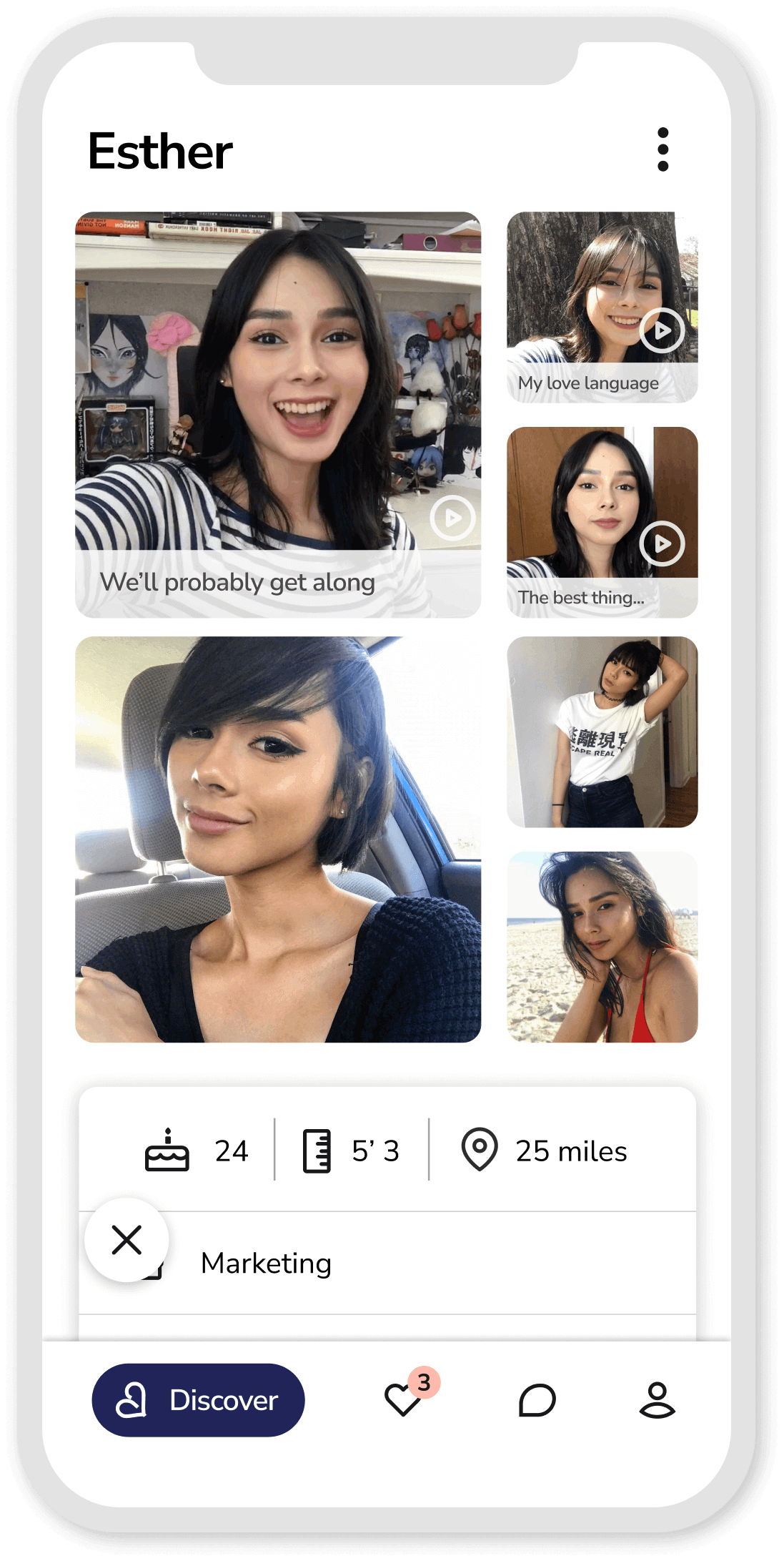 Sarah has benefited from the app's inclusive culture. She has found two long-distance friendships, one in New York City and the other in California, after meeting them on the app. Now, she texts and FaceTimes with both of them frequently, talking about shared interests and catching up with their lives. As someone who also works in tech, she hopes to see the app expand in the future.
Asian users who identify as LGBTQ+ have also found a safe space on the app. "Users on apps like Grindr and Tinder were far too comfortable displaying "no Asians" or "no Blacks" on their profiles, or fetishizing members of these communities," Marc Gamboa writes. User David Mac also recalled seeing "the 'no Asians' status on dating profiles," adding: "Alike will allow Queer Asians who may just be coming out and wanting to date find that safe space."
For Yang, seeing the connections users have made on the platform was a deeply moving experience.
"Hearing that feedback that they appreciate a platform like this, or that they were able to meet friends or they were able to start their own journey of self-healing… and realize there were others like themselves, and that they do belong, that's been incredible for me," he said.
Alike was originally released as a dating app. As a result, it faced pushback from members of the Asian American community who were concerned that the app would simply replicate the Asian fetishism and discrimination that was prevalent on other mainstream dating apps.
Yang emphasizes that Alike was designed for the safety and comfort of Asian users. While it is impossible to ban non-Asian people from the platform, the app requires users to identify as Asian or non-Asian during registration and allows them to choose to be matched with others who identify as Asian or everyone. The app is also closely monitored; Yang says that profiles are reviewed for adherence to Alike's community guidelines, and users can report offenders as well.
Furthermore, the development team implemented a friendship feature in July 2021 after receiving feedback from numerous female beta testers who wanted to connect with other women on a non-romantic basis. The change shifted the app from dating-focused to a more general social networking platform, allowing a wider variety of users to participate.
On a personal level, however, Yang stresses that the ultimate point of the app is simple: "This is about self-love. It's about celebrating the Asian identity and culture. That's it, nothing else." He hopes that this message of healing and positivity will overcome lingering reservations about dating apps and online social platforms in the Asian American community.
This's vision has been affirmed by the app's positive reception, which Yang describes as "tremendous." Already, Alike users—especially those from marginalized identities, such as women, LGBT, and gender-nonconforming individuals—have expressed that the app allowed them to safely connect with other members of the Asian American community. User Yumi Han, for instance, says she actually does "feel a sense of safety on Alike compared to the other apps… That is what I'm looking for, and I think it's very important to the Asian American community."
Yang recognizes that Alike is still a small platform. In the future, he plans to look for investors and raise funds in order to take the app to the "next level"— a process he knows will be difficult.
Ultimately, however, Yang stresses that the true value of the app is not the size of its user base or the money it raises from investors. It is rooted in providing a platform for people to connect and heal, much as he had done throughout his personal journey.
"At the end of the day, Alike's only message to our users is love yourself. It's only with that, that healing can begin," he says.
"Once we start accepting ourselves and loving ourselves, that will spread outwards, like a ripple in a pond. And I believe the change that we're all looking forward to has to start with us."
AsAmNews has Asian America in its heart. We're an all-volunteer effort of dedicated staff and interns. Check out our new Instagram account. Go to our Twitter feed and Facebook page for more content. Please consider interning, joining our staff, or submitting a story, or making a contribution.