NYC Mayor Eric Adams this week hosted the first AAPI celebration at Gracie Mansion, home to New York City mayors since 1942. He held the celebration outdoors in the yard with a gorgeous view of the East River under perfect weather conditions.
The Mayor invited approximately 800 guests that included elected officials, community leaders, advocates, Asian American members of the FDNY, NYPD and members of his administration. City leaders such as Raymond Tsang of the Chinese Consolidated Benevolent Association, Linda Lee, Queens District 23 Council member and Tommy Ng, NYPD Inspector of Special Projects of Queens also attended.
About an hour into the celebration, the Mayor spoke and thanked the AAPI community.
"We all love our city. We all appreciate what this city has to offer. And I also want to acknowledge something that many people have forgotten. You and your ancestors are not new to the contribution of this city," said the mayor. "You built our railroad systems, you built businesses, you started small shops and provided services. And when this city shut down, many of the men and women of the AAPI community did not shut down. You ensured that the city was able to continue to thrive and grow. I saw you out there as we moved about to make sure this city was able to provide for the families. We owe you a special thank you, and a special form of gratitude for your commitment to the City of New York."
The Mayor honored several Asian Americans with a proclamation for their service; FDNY Battalion Chief, Steven Lee; Sylvester Ge, the commanding officer of the NYPD's Highway Patrol Department, EMS Deputy Chief John Paul-Dimen; Anna Leong Goldstein, a teacher of 32 years in the NYC Department of Education and John (surname in audible) of the Korean American Community Empowerment Council.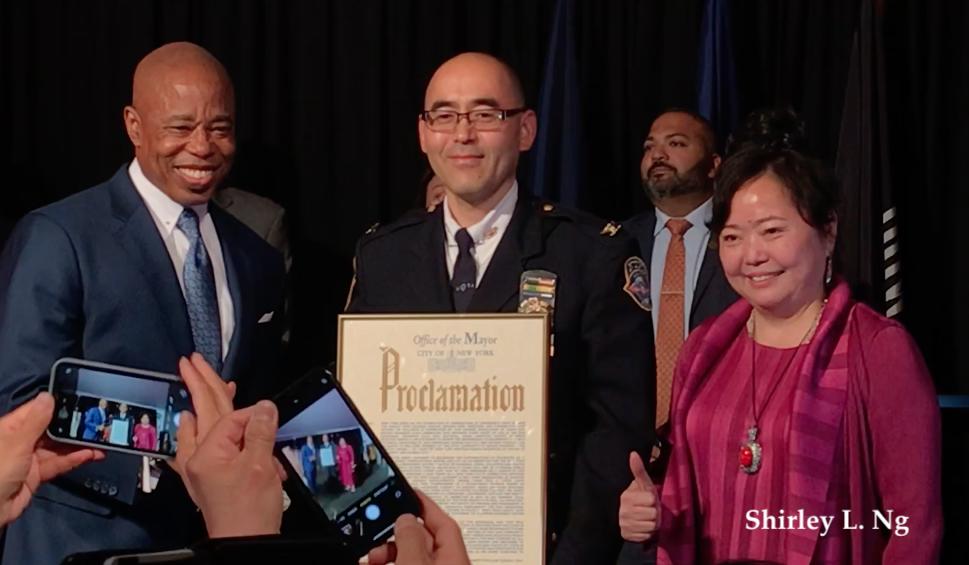 Attendees were schmoozing over tasty food and drink. The menu for the evening was all plant-based. Many may not realize that the Mayor is a vegetarian, although he's been known to cheat sometimes. Some tasty vegetarian offerings were: dumplings, chickpeas in curry sauce, tofu, broccoli, Chinese noodles and more.
In addition to this first AAPI celebration at Gracie Mansion, other first-time AAPI festivities in the city this year included Japan Day and the AAPI parade both held last weekend.
AsAmNews has Asian America in its heart. We're an all-volunteer effort of dedicated staff and interns. Check out our new Instagram account. Go to our Twitter feed and Facebook page for more content. Please consider interning, joining our staff, or submitting a story, or making a contribution.