by Danielle Cho, AsAmNews Intern
Friends, family, neighbors, and allies gathered in San Francisco Chinatown's Portsmouth Square Saturday night to remember Vicha Ratanapakdee on the second anniversary of his death. The Thai immigrant's killing is considered to be the first in a wave of anti-Asian crimes in San Francisco.
Saturday night's vigil and lantern lighting commemorated Grandpa Vicha's passing as well as the victims of violence from the shooting at Monterey Park and Half Moon Bay. With the start of the new lunar year, the lantern ceremony symbolizes new beginnings and good luck. A time meant to be a joyous celebration instead serves as a reminder of the violence that plagues the Asian American community in disturbingly increasing numbers.
The vigil shared a message of healing in the face of sorrow and grief for the loss of loved ones and fellow Asian Americans. Julia Quon, a volunteer who acted as MC for the night, shared that the gathering was only made possible through the efforts of a community that supports each other.
"I wish for all the victims and survivors of AAPI hate to not only heal but feel empowered enough to one day share their story and hopefully find justice for themselves," said Quon.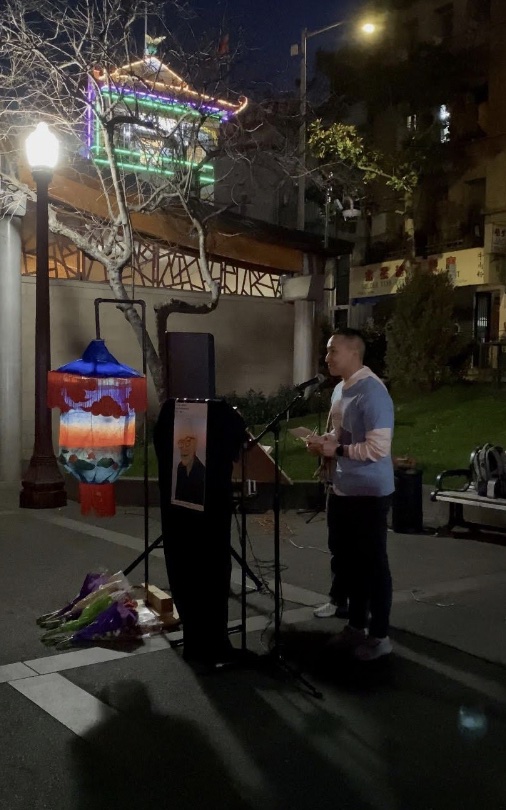 Monthanus Ratanapakdee, daughter of Grandpa Vicha, continues to seek justice for the death of her father. She implored others not to grow numb to the violence or stay compliant.
"I wish for our community to be safe in the future and stay strong together," said Ratanapakdee.
Please support our Year of the Rabbit fundraising drive. Our board of directors has pledged to match each donation dollar for dollar up to a combined $11,000. You can make a donation via credit card or Paypal. If you prefer, you may send a check to 440 North Barranca Avenue, #8117, Covina, CA 91723. We are a recognized 501c3 and all donations are tax-deductible. Our EIN is 87-4114362