Here's your chance to get to meet stars from the NBA, past and present, as well as an Asian American artist whose work has been exhibited at the Museum of Modern Art in New York.
Check out AsAmNews' Unforgettable Experiences Auction. It's live now through February 26, 2023 at 8:30 pm Pacific Time.
Our premier package includes dinner for two at a first-class table with members of the Houston Rockets. Among those expected to attend is Jalen Green, the Filipino American drafted number 2 overall by the Rockets in 2021. He is currently averaging 21 points per game in his second season.
Also expected are a number of Rocket legends including NBA Champions Hakeem Olajuwon and coach Rudy Tomjanovich.
The event will be held in Houston, Texas, at Landry's Private Hangar (8251 Travelair St.) on Friday, March 3rd, 2023 from 7 to 11 pm CT.
The pair of tickets are valued at $3,000. The package includes:
VIP reception & private tour on team plane with Rockets legends
Sit at premium table for dinner
Personal visit and table photo with a player or legend
Get advice from venture capitalist Dave Liu who is the CEO Advisor to Internet Brands/WebMD, ProSiebenSat.1 Media, Vobile and FIGS. He's also Vice Chairman of MobilityWare, one of the largest mobile, casual gaming companies in the world and Vice Chairman of the board of Asian American Media Inc, the non-profit that publishes AsAmNews 365 days a year.
This package is generously donated by Liu himself.
Our two other packages include works of art from Nina Kuo.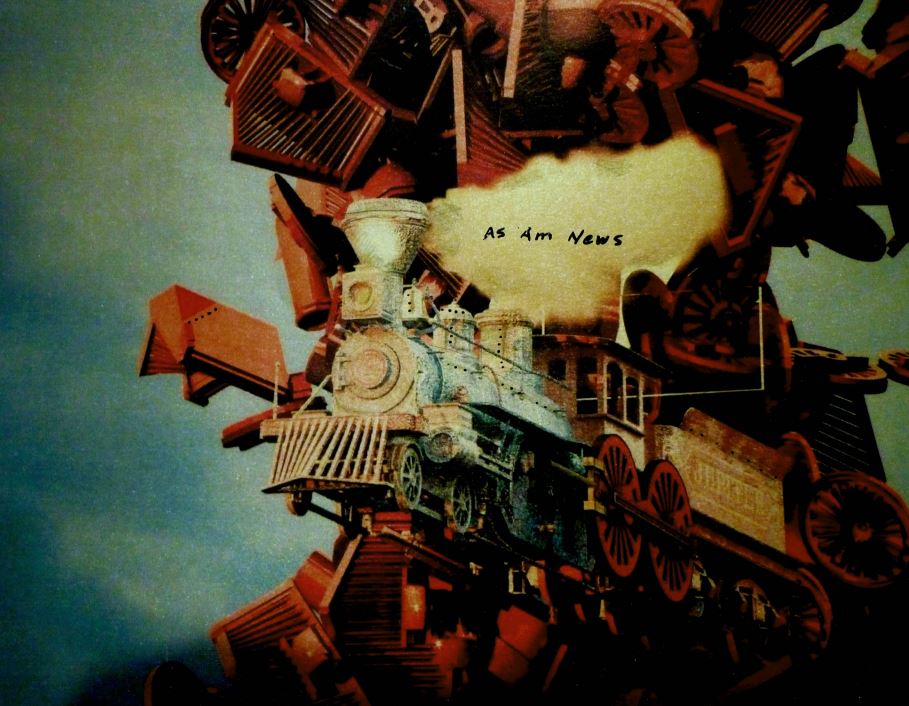 Continental Train Wave is a 3D digital still that captures the spirit of the Chinese railroad workers who built the Transcontinental Railroad. You can almost hear the sound of the chugging engine and smell the smoke rising from the steam train in Nina's vivid imagery. The artwork is 8″x11″ and unframed.
The winning bidder will also get a chance to meet Nina Kuo in-person or virtually at a mutually agreed-upon time.
Shop Till You Drop captures the spirit of the bargain hunter in all of us. A confident but tired shopper walks off with her sale items with a child on her back and a sense of satisfaction as she walks away with her conquest. The artwork is 8″x11″ and unframed.
The winning bidder will also get a chance to meet Nina Kuo in-person or virtually at a mutually agreed-upon time.
Kuo presents an illusionary world of multi-faceted personalities with new idioms of refuge that memorialize our expressive dreams and channel sensual, ritualistic expressions that free us from stereotypes.
Nina moves the crowd with invented spiritual, cultural or mental icons of our Persona. It is a positive to combat the AAPI issues that affect us with expressive messages. For AsAmNews, Nina Kuo creates artworks with fictional and historical references in an individual modern language. She works in photographs , multi-media and has been branching out into installations. Permanent collections: Brooklyn Museum, MoMA, Biblioteque Nationale, Lib. Of Congress etc. Commissioned photo/art by Renee Tajima, Chris Choy, Jeff Yang, Brooklyn Hist. Soc. etc. (Group show at MoMA, 2022-2023).
Both items were generously donated by Kuo.
Bidding is open until 8:30 PM Pacific Time on February 26, 2023.
Please support our Unforgettable Experiences Auction fundraiser. Bid to win dinner with the Houston Rockets including Filipino American Jalen Green. The winning bidder will also meet Houston Rockets legend Hakeem Olajuwon and tour the team's private plane. Two other winners will receive a meet and greet with Asian American artist Nina Kuo. Her work has been displayed at the Museum of Modern Art in New York. Bidding closes February 26 at 8:30 pm Pacific Time. Your tax-deductible donation will be matched up to a combined $11,000 by our Board of Directors.