By Randall Yip, AsAmNews Executive Editor
The red carpet has never shined brighter than Thursday night, the opening night of CAAMFest in San Francisco.
Emily in Paris's Ashley Park, Good Trouble's Sherry Cola, Everything Everywhere All at Once Oscar-winner Stephanie Hsu and comedian Sabrina Wu appeared before a sold-out audience at the Castro Theatre for the West Coast premiere of Joyride.
As one CAAMFest staff member put it, "We've never had this much star power before."
The Lionsgate film which debuts nationwide July 7 is the story of two best friends, Audrey and Lolo(Park & Cola) going to China in search of the adopted Audrey's birth parents. They are joined on the adventure by Kat, a Chinese soap opera star (Hsu) and Deadeye, Lolo's eccentric cousin.
"We're all Asian women with the same perspective and the same or similar parts of life that I've come from, Park told AsAmNews on the red carpet. "That was my first time being in that kind of space. And it's definitely changed my standards or the kinds of spaces that I'm I'm curious and like excited to be part of."
Joyride is a story about identity, belonging and family from Crazy Rich Asian's writer Adele Lim in her directorial debut and written by Cherry Chevapravatdumrong and Teresa Hsiao. It's a raunchy teen adventure that also happens to have lots of heart.
"I think the whole point of this film is to show faces that are Asian being human so I think as much as we have the cultural specifics in the film, we also explore what it's like to just go through not knowing who you are and finding out where you belong in the world and you know, just discovering friendship along the way," said Cola.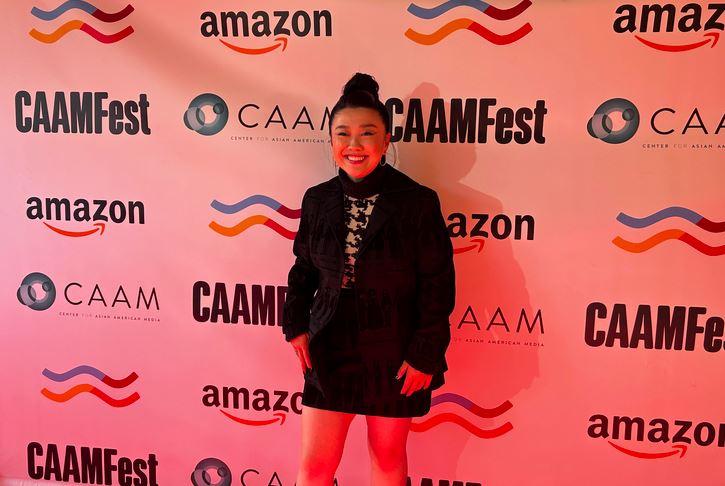 The cast is a who's who of young Asian American actresses. Hsu, of course, is best known for her role as the gay daughter in search for her mother's love in Everything Everywhere All at Once. She also plays Mei Lin, Joel's girlfriend in Marvelous Mrs Maisel.
Her roles have each been unique in their own way and show the depth of her acting abilities.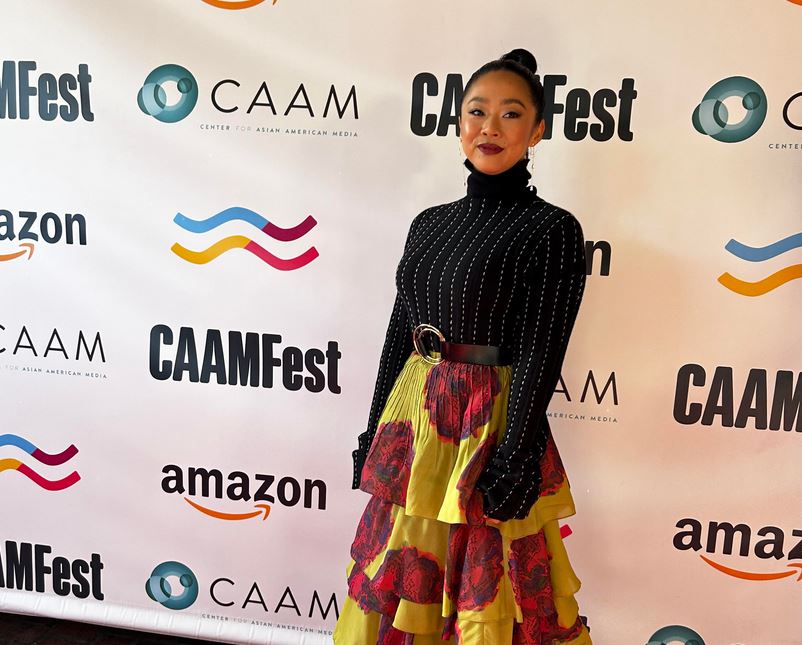 "I just feel really honored that I get to play roles that are in my body in my skin, like completely nuanced characters, flawed characters, complex characters, and not any stereotypes or tropes," Hsu told AsAmNews. "And it's fun to continue to make space for other people and break boundaries that I felt all throughout growing up and to get to be someone who gets to help break down those barriers."
Three of the cast members also happen to be from the gay community- Hsu, Cola and Wu.
"I feel a lot of pride I guess getting to be a part of this culturally significant movie, you know, Asian lead movie. I love comedy. It's just a huge honor to get to get to be a part of this moment," said Wu.
The cast members all said separately that they all developed a genuine bond working together on the film on location in Vancouver.
"I think that this is probably one of my favorite moments in life getting to shoot this movie, in general. So I mean, it's just it was such a good time on and offset at all times," said Park.
Hsu agreed.
"The meals that we shared alone, it's a testament to the amount of joy that we feel that we all gathered together and there is a feeling of home," she said.\
CAAMfest runs through Sunday, May 21. Tickets are available online.
AsAmNews is published by the non-profit, Asian American Media Inc. Please consider making a donation and following us on Facebook, Twitter, Instagram and TikTok. Information about interning, joining the staff or volunteering is here. We are supported by a grant from the California Library Commission and its Stop the Hate program. You can find more resources here.