My experience at a protest march against exploitative housing practices in New York City
By Shree Baphna
This past week, on a rainy Saturday morning, my partner and I had the privilege of partaking in a march protesting the exponentially rising rents in New York City.
NYC is notorious for its saturated real estate market and severely over-priced housing. For those living on an average salary in the US, this city is unaffordable. As a result, many face eviction and are rendered homeless by a predatory system that benefits the wealthy. And while residents of NYC do make it work, we must ask ourselves- at what cost? Tenants in this city are consistently at the mercy of their landlords. The COVID-19 pandemic only exacerbated this problem when people lost jobs and were no longer able to afford rent.
The march- organized by the Housing Justice For All (HJ4A) movement- started in Brooklyn at the Cadman Plaza Park. We huddled in the grey drizzle, facing the ominous façade of the Brooklyn War Memorial to hear speakers and tenants voice their stories and share their struggles. All around us were spectators, allies, and other supporting organizations. A representative from HJ4A snaked their way through the crowd, pulling a wagon with hastily spray-painted signs that participants could hold. I reached down and grabbed one with a purple-toned brick pattern and the words "The rent is too damn high" scrawled across in thick black ink. On the back was the HJ4A logo in red.
At first, I had trouble concentrating on the speakers and immersing myself in the atmosphere. The rain was relentless, and I began to feel cold and restless where I stood. The rain was making the paint on my sign run and stain my jacket. I strained my ears to hear the speakers, who could hardly be heard over the din of the rain pattering on the ground.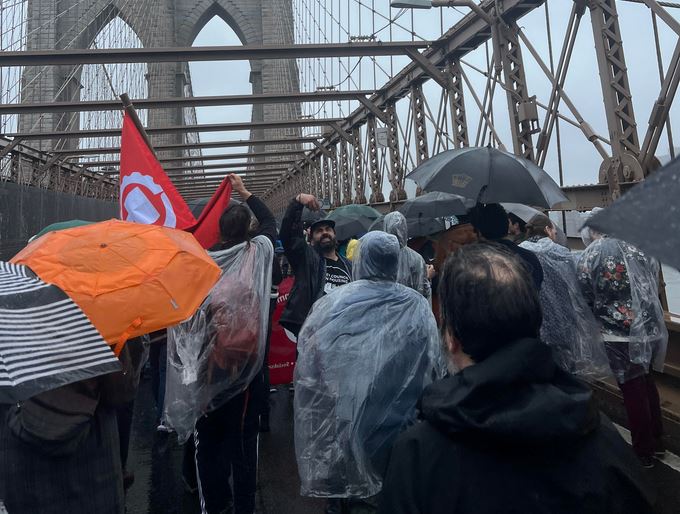 One-by-one, people came forth to share their stories. One was a single mother struggling to make ends meet. Another speaker was a small business owner in Chinatown who saw their rent more than double in the past few years. All speakers were POCs, many were immigrants. Sadly, this is unsurprising considering members of these communities are more likely to face housing crises. Many factors lead to this, the most prominent being the disadvantageous real estate market. The capitalist nature of landlord profiteering and the historically racist system of redlining have combined to obscure the fact that access to safe and clean housing is a basic human right.
I personally am immensely lucky and privileged to have the housing that I have. Even though my family is also immigrants, we have achieved financial security to the point where housing is not something we have to worry about. But for the majority of other immigrants in this city, the same privilege does not exist. In hindsight, writing this article about my experience at the march and my discomforts at being cold and wet sound laughably trivial.
After the first round of speakers, the HJ4A organizers announced the start of the march. Our route was through Cadman Plaza, across the Brooklyn Bridge, and finally halting at City Hall Park which is located at the northern edge of the city's famous Financial District. Our destination was significant. City Hall Park lies in the Civic Center of Manhattan, one of the oldest parts of the island. As the location suggests, the area was built on the ethos of government for the people, by the people. It is sorrowful that this has not been the case. Clearly, the local New York government has not done much to intervene in the exploitative housing market.
At a slow, but steady pace, we trudged through the park and onto the main road. All of a sudden, I felt as if we had grown in number. What had started as a small huddle at Cadman Park transformed into a surge of protestors with signs and umbrellas, extending more than a hundred feet down the road. Every few minutes or so, a rallying call would ripple through the crowd.
"What do we want?!"
"HOUSING JUSTICE!"
"When do we want it?"
"NOW!"
"If we don't get it?!"
"SHUT IT DOWN!"
The energy was infectious. I yelled the slogans back and hoisted my water-drenched sign. I waved to people on the street who stopped to watch or video the spectacle. My body began to warm up, and I felt energized as we trekked along the streets. Although the distance was not long- roughly 1.5 miles- the march itself was long. We walked for more than an hour and stopped frequently to ensure everyone could keep up. Various organizations present frequently screamed their slogans over megaphones, some in Spanish or Mandarin. Others blasted music on speakers, banged on drums, or shook bells. Even though I felt enthused by all the activity, noise, and the knowledge that I was marching for a good cause, I couldn't help but despair. In the grand scheme of things, what would this protest actually achieve? This issue of housing was gargantuan, and I know in my lifetime it would be extremely difficult to achieve a change of magnitude.
When we finally reached Manhattan, the cold was beginning to creep back into my limbs and I felt the stressful sensation of a full bladder. As we crossed the Brooklyn Bride, I began to notice the increasing number of cops on either side of us. They stood in a straight row, in their stereotypical wide-legged stance with thumbs hooked into their belts. Their expressions were cool. They looked bored.
We finally halted somewhere near City Hall Park (I was not sure of the exact location). One of the leaders from HJ4A climbed onto the base of a flagpole and resumed shouting slogans into a megaphone. The crowd seemed to absorb their energy and responded with force. Their voices swelled, like a massive wave in the ocean just before it crashes onto the beach.
At that point, my partner and I gave into our exhaustion and decided to head home. I felt somber the whole way back because those feelings of despair were still lingering. I know that social movements are all about building up to action and understanding that small events snowball into larger results. My naïve and inexperienced self couldn't help but feel frustrated at how wasted our efforts seemed in that moment.
However, I know that sitting on the sidelines using this as an excuse to do nothing is worse. I have more resolve to immerse myself in grassroots movements. After all, I am no expert in such issues, nor am I able to hold an opinion on an issue that I do not experience myself. What I and those in similar spaces as me must do is learn, listen, and provide support. We are graced with privilege and a platform. What a waste it would be to not use it at all.
AsAmNews is published by the non-profit, Asian American Media Inc. Please consider making a donation and following us on Facebook, Twitter, Instagram and TikTok. Information about interning, joining the staff or volunteering is here. We are supported by a grant from the California Library Commission and its Stop the Hate program. You can find more resources here.