By Randall Yip, Executive Editor
Best-selling author Min Jin Lee of Pachinko fame shared two of her weaknesses at the Asian American Journalists Association convention at the Capitol Hilton in Washington, D.C.
One- she can't write on a deadline which is one reason she says she admires journalists.
Two- she says she has no filters and that, she joked, could one day get her into trouble.
"I'm full of shit from Queens," she bluntly said at one point.
The engaging on-stage conversation with AAJA President Nicole Dungca, an investigative reporter with the Washington Post, covered a range of topics and emotions.
Twice Lee had to stop to compose herself as she fought back tears. This is a woman that cares deeply about her craft and the subjects she writes about.
After graduating from the Georgetown University Law Center, she worked for two years as a corporate lawyer. She described that experience as a "nightmare."
"I was able to quit because I didn't want to die at my desk," she said. "The month that I quit, I billed 300 hours. At one point, my husband says to me, you know, they're not your parents. They don't care if you die."
She left the lucrative job of corporate law to pursue a writing career. Now she gets to tell the stories that are important to her. She recalled, while a student at Yale, advocating for the teaching of the Korean language and of Korean Studies.
The Seoul-born Lee organized a letter-writing campaign to Yale alum. One of them donated $500,000 to establish Korean Studies at the university.
"I told this story because this is before I ever became an author before I ever had any credits. I was just a kid and I felt like you cannot erase me. You cannot erase the things that I care about," she said as she took a long pause, choking up with emotion as the audience applauded.
Directly addressing the audience, she said as writers "We care about policy. We care about inclusion."
She also cares about the Korean diaspora- a subject that has dominated her writing. She finds it interesting when she's asked the same question over and over- "'Are you always going to write about Korea?'"
"I think when you think about all the books that you grew up with all the books that we were told to study, and all the books we were told, are considered great. Those authors often wrote about their communities. So I don't think we were asking Jane Austen, why are you writing about White women?
She says she encourages her students at Amherst College in Massachusetts to speak their minds. If you don't feel seen, take up space and say what you want to say. If you don't like something, do something about it.
Don't wait for permission, but just go out and do it. she implored. If you disagree with your parents, talk to them about it in a respectful way and ask them why they feel that way.
That's how she handles those who wonder if she'll ever write anything beyond the Asian diaspora.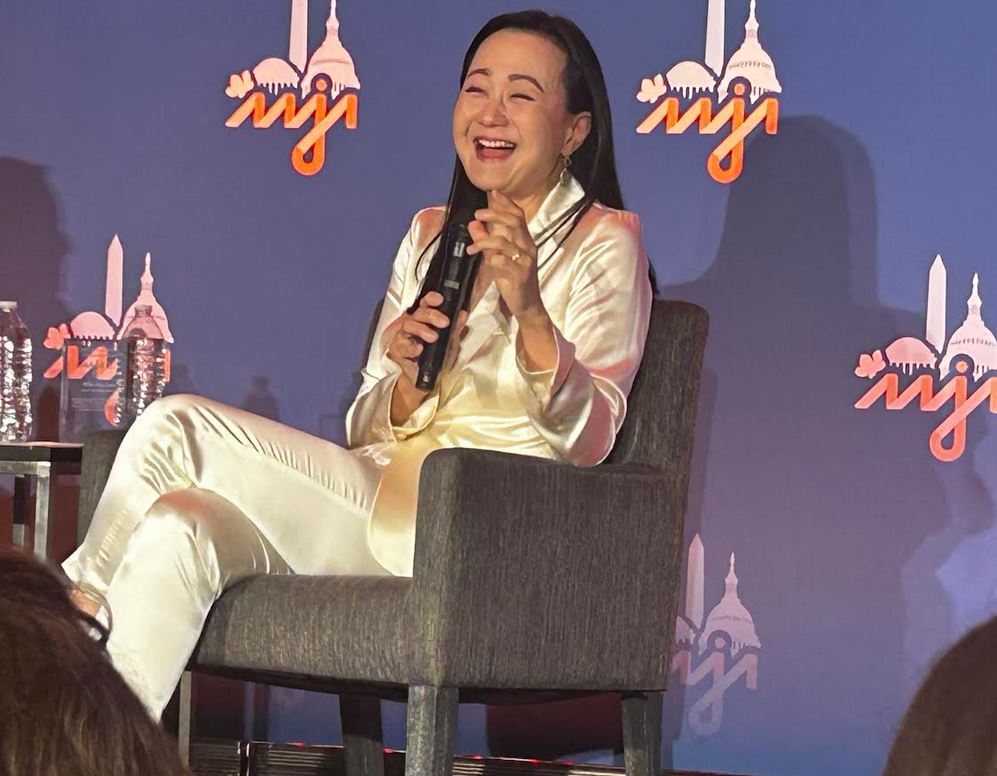 "It's a funny question because they're thinking like, 'well, you seem like you actually have something to say. You might know what you're doing, so shouldn't you shift your lens to something else more important?' I go mother fucker. I am important."
Her next novel will conclude her trilogy which began with Free Food for Millionaires in 2007 and Pachinko in 2017. American Hagwon will focus on Korean education centers or hogwons where students go to get additional tutoring in preparation for their college entrance exams. It will also tell the story of the economic collapse of Korea in 1997 known as the IMF Crisis.
She says everyone in Korea felt the impact of the crisis in some way with massive layoffs, shuttered businesses, and home foreclosures.
Lee considers herself a city person and regularly walks the streets of New York and takes the subway. What she sees every day clearly has tugged at her heart.
She paused several times to collect her thoughts and to stop from crying.
"When I see every day Asians or Asian Americans collecting cans, little grandmothers wearing visors. They have fake sleeves made out of t-shirts to cover their skin not yet cut. They are not seen for the labor that they perform. They are trying not to take your hand out.
"And when I see people attack them. The people who are attacking them are sometimes mentally ill. Sometimes they're on drugs. Those people deserve tremendous compassion.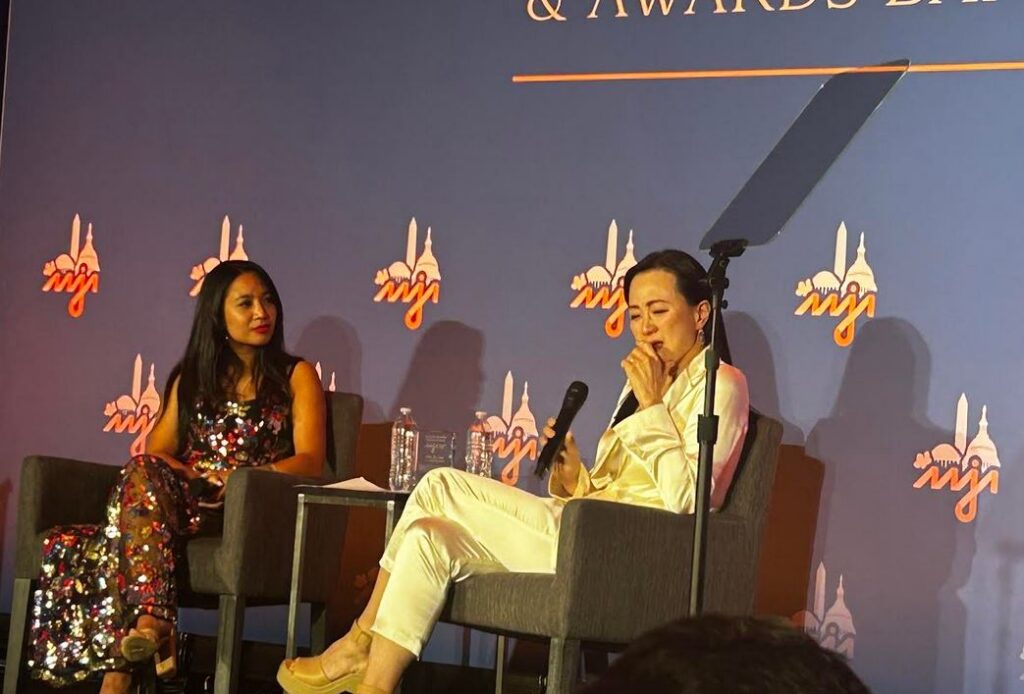 "What can I do? What little thing can I do?" she said to the journalists.
"Maybe I can convince you to remember if you're editor says we've had too many of those stories… tell them to fuck off."
The hundreds in attendance at the gala and perhaps some listening in the overflow room next door, rose in unison and gave her a standing ovation.
AsAmNews is published by the non-profit, Asian American Media Inc. Please fill out this 2-minute survey which we will use to improve our content. We are supported in part by funding provided by the State of California, administered by the California State Library in partnership with the California Department of Social Services and the California Commission on Asian and Pacific Islander American Affairs as part of the Stop the Hate program. To report a hate incident or hate crime and get support, go to CA vs Hate."