The largest Hindu temple complex outside India has taken a long twelve years to reach this point, but in a few days the Swaminarayan Akshardham Hindu Temple in Robbinsville, New Jersey's will be opening its doors despite controversy.
The $150 million temple has been built by Bochasanwasi Akshar Purushottam Swaminarayan Sanstha (BAPS), a Hindu denomination in the Swaminarayan Sampradaya tradition.
On October 8th, the temple will be opening on a limited basis. As per the mandir's website, general visitors won't be able to see it until October 18th.
The Robbinsville temple complex has been finished under the leadership of Mahant Swami Maharaj, Swamirayan's sixth spiritual successor and BAPS' guru and Pramukh, or president. His predecessor Pramukh Swami Maharaj launched the project before he died in 2016.
The temples' construction hasn't been without controversy, largely around the conditions of its construction workers and volunteers.
Since the temple first broke ground back in 2011, its construction has been made possible by the contributions of thousands of volunteers. Some arriving on R-1 religious visas, many worked long-term on the project, living in housing provided by BAPS.
In March, Mid Jersey News reported that 33 women volunteering at the temple site were evacuated from a home due to carbon monoxide. The residence was found to have been converted into a boarding house by BAPS.
The carbon monoxide was only discovered by chance, when an EMT's personal carbon monoxide alarm went off in the house while they treated one of the boarders for a stroke—the house had no carbon monoxide detectors, and violated numerous other safety regulations, including having legally mandated fire exits shut with boards and screws. The building's conversion to a boarding house was never permitted, leading the city to shut it down.
In May of 2021, NBC News reported that over a dozen workers at the temple filed a lawsuit against BAPS accusing the group of using forced labor, wage theft and human trafficking to build the temple, but they later withdrew the allegations.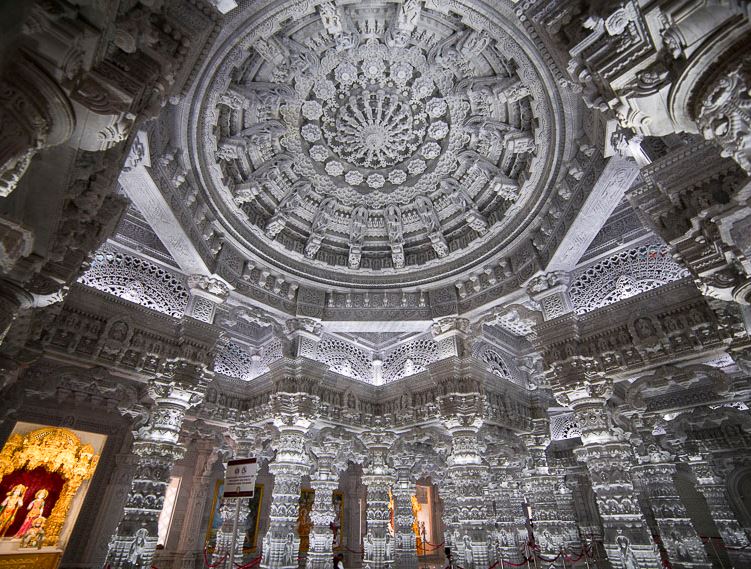 The workers, mostly stonemasons recruited from the Dalit caste or other disadvantaged groups in India, said BAPS lured them to the US on religious visas, forcing them to work 80-90 hours a week for only $480 in monthly pay. The lawsuit later expanded to other BAPS temples in the United States, with more workers joining the case and a federal investigation starting.
In a surprising turn, some of the group of workers turned against the case once they returned to India. On their behalf, a high-profile Indian lawyer, Aaditya SB Soni, issued a press release that accused their previous lawyer Swati Sawant of having misled and coerced them into suing, as part of a "deep-rooted conspiracy to stall the construction of a grand Hindu temple in America."
India West Journal reported on the withdrawal and press release, which was done under the banner of two Indian trade unions, Bharatiya Majdoor Sangh and Patthar Gadhai Sangh. Bharatiya Majdoor Sangh is part of the Sangh Parivar, a wide family of groups associated with the Rashtriya Swayamsevak Sangh (RSS), a far-right Hindu nationalist organization. The Sangh Parivar also includes India's ruling party, the BJP, which Prime Minister Narendra Modi leads.
BAPS has close ties with Modi, Pramukh Swami Maharaj having met with him repeatedly, both in India and during diplomatic trips. Modi's official YouTube channel features a video titled after the two leaders' 'special bond.'
Hindu nationalists typically reject accusations of caste discrimination or inequalities in Hindu communities, which the suit accused BAPS of perpetuating—often considering them part of anti-Hindu conspiracies, rather than legitimate pushes for justice. BAPS' association with Modi and Hindu nationalism has also drawn criticism in its own right, further detailed in the American Kahani.
Though the nearly-complete temple complex is undoubtably impressive, whether that will manage to overshadow the controversy the construction has generated remains to be seen.
AsAmNews is published by the non-profit, Asian American Media Inc. Please take advantage of a $30,000 matching grant challenge. An anonymous donor has offered to match dollar for dollar every tax-deductible donation made to Asian American Media Inc from November 1, 2023 until the end of the year. The money will be used to fund the addition of a new reporter and to produce content for limited English-speaking Asian immigrants. We are supported in part by funding provided by the State of California, administered by the California State Library in partnership with the California Department of Social Services and the California Commission on Asian and Pacific Islander American Affairs as part of the Stop the Hate program. To report a hate incident or hate crime and get support, go to CA vs Hate.