By Jia H. Jung, California Local News Fellow
The atmosphere at the Oct. 21 installation of the Undiscovered SF Filipinx block party in SOMA, San Francisco this past Saturday was positively revelatory. The vibe befitted a major moment for Filipino American, AANHPI, and global music.
Nearly breathless with excitement, 32-year-young Filipina Ruby Ibarra addressed the same crowds she had been weaving through while rapping with a lineup of numerous other Filipino American performers. She exulted, "Together, we're making a brand new Filipino American music label collective called Bolo Music Group."
She whipped off her quilted jacket to reveal a white tee with the logo of the newest independent company that will give a platform to rising Filipino American musical artists.
Founded by Ibarra and Bay Area producer, mix engineer, multi-instrumentalist, arranger, and band leader Angelo LASI Macaraeg, the Bolo Music Group takes its name from the bolo, a pre-colonial Filipino cutting tool similar to a machete.
The bolo has been used for bushwhacking, agricultural grounds clearing, military conflicts, and is emblematic of the Kataastaasang, Kagalanggalangang Katipunan ng mga Anak ng Bayan – Supreme and Honorable Association of the Children of the Nation.
Called Katipunan for short, this group of Filipino nationalists formed on Jul. 7, 1892 with the intent to take back their islands from Spanish colonizers. They planted the seeds for the Philippine Revolution that eventually freed Filipinos from Spain's clutches in 1898, however driving them under the wing of the United States, which was beginning its occupation across the Asia-Pacific region.
With this fighting spirit, Bolo Music Group has alluded to "cutting through" mental clouds and systemic obstacles in its marketing. In an Instagram post last night, LASI wrote that the label was meant "to cut through industry barriers and notions of what a music label is or should be." He added, "This label is not run by industry executives, promoters or event planners – this sh*t is run BY artists FOR artists."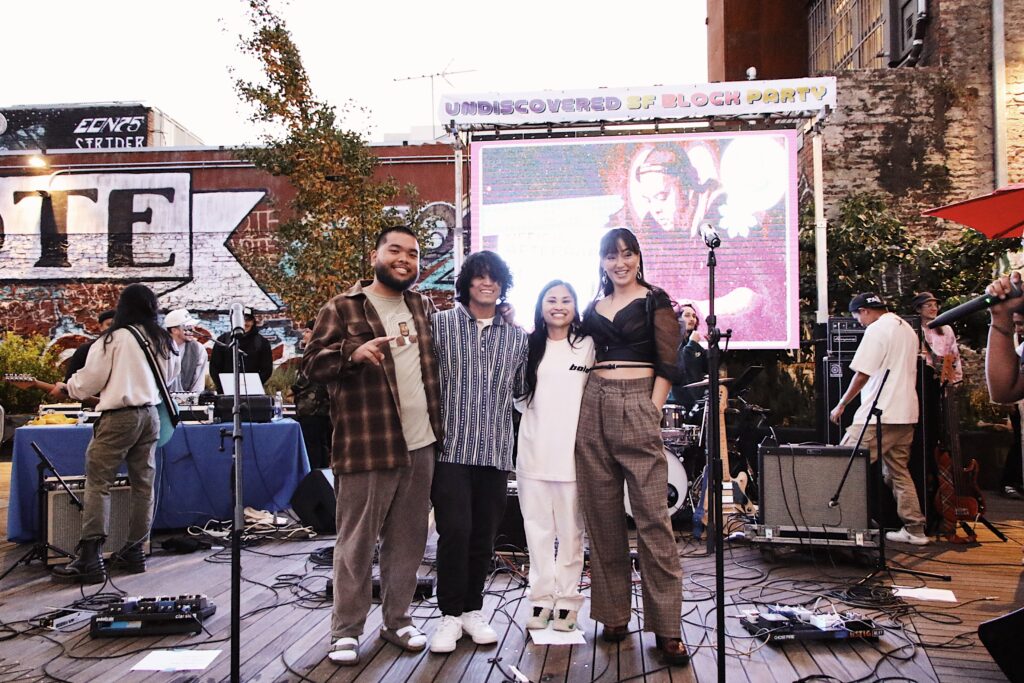 Just a week before its dramatic debut – handled in part by Kultivate Labs's and Undiscovered SF's partner PapaLoDown Agency – the label made its first Instagram post on Oct. 15.
The account announced itself with a single image of two crossed bolo knives in silhouette, resembling a Rorschach test-like black butterfly. The caption underneath simply read: "10•21•23."
Bearing the tagline "be on the lookout," the label's website states that it is a movement of Filipino American creatives and world citizens, declaring: "we are here to disrupt the system and be the authors of our own stories that we aim to connect globally across communities."
Ibarra, a heavily respected rapper, spoken word artist, and director, was born in Tacloban City in the Eastern Visayas region of the central Philippines. She immigrated to San Lorenzo right above Hayward and east of San Francisco with her family in 1991 at age 4. Far from her homeland, she developed a Bay Area mindset concurrent to steady consumption of 1990s golden era hip-hop influences like Tupac, Lauryn Hill, and the Wu-Tang Clan.
She began posting YouTube videos in 2010 that piqued the attention of the likes of XXL Magazine and WorldStarHipHop content-aggregating video blog. She had a breakout with her Lost In Translation mixtape released on Dec. 12, 2012, premiered over Shade 45 Satellite Radio in New York City by late DJ Kay Slay.
Still residing in the East Bay today, Ibarra has toured all over the U.S. and the Philippines. Her down-home English and Tagalog bars of spoken and musical narrative have penetrated the mainstream market, too. Movies, television shows, and commercials have used her work. She has received exposure in big media outlets including and not limited to Buzzfeed, Los Angeles Times, New York Times Style Magazine, and San Francisco Chronicle.
But those who have followed Ibarra since her early days hold her up first and foremost as a ground-level force for social justice alongside legends like Filipino American emcee, journalist, and author Rocky Rivera (Krishtine de Leon).
In her collaborations, she has shown solidarity with Filipino, Filipino American, and AANHPI artists in numerous collaborations, such as Pinay power anthem Us with Rocky Rivera, Klassy, and Faith Santilla and Taking Names with Bambu (chair of Beatrock) both from Circa91, Someday with The Balikbayans – a live band Ibarra started – for NPR's Tiny Desk series in 2019, and A Thousand Cuts with AJ Rafael and Korean American R&B pillar Ann One last year.
In addition to creating music with incisive social messages and irresistible hooks, Ibarra is co-founder of Pinays Rising, which gives scholarships to students pursuing their higher education while striving for excellence in the arts and/or community service and activism.
The UC Davis grad has also attained and grown her status while working as a biotech scientist who got press for being at the front lines of COVID-19 vaccine development. She only quit her day job last year and contacted co-founder LASI, who that same year left what he has described on social media as "a toxic 9 to 5 job". The creators began sharing thoughts, questions, and visions about the past, present, and future of Filipino American music. Bolo Music Group emerged from these exchanges.
Earlier this month, Ibarra made her creative comeback by releasing the single Switch, featured on the NBA 2K24 video game soundtrack and teasing a second album that she plans to release next spring under Bolo Music Group. (Her 2017 highly personal debut full-length album, Circa91, came out under Beatrock).
Meanwhile, she and LASI are promoting a stable of three pioneering artists through Bolo Music Group.
Filipino-Irish American Bay Area singer/songwriter Ouida ("wee-duh") has honed her singing and songwriting skills since childhood. Her music has wafted around the world, featured on MTV's Love & Hip Hop Atlanta and Jersey Shore, and soaring on the radio waves in Ireland (RTÉ 2FM, Spin 1038, Spin Southwest, Today FM) and in California (CMC, NPR / KQED 88.5 FM, KRML Monterey). She also stands out for the vulnerability she shares in her #behindthesong videos speaking to the mental health and emotional journey of musical making. Her five-track debut EP, Come Rain, Come Shine, just came out on Oct. 13.
Ian Santillano (San-Till-Yeah-Know) is a Filipino American singer, songwriter, guitarist, and multi-instrumentalist who creates genre-defying music hovering somewhere around the intersection of folk, alternative, funk, and soul. The artist describes his own sound as the result that would come about "if John Mayer and Thundercat had a Filipino American baby who listened to Yebba and Faye Webster." He is promoting his first studio album Intropy (2022) and new single and video for End Of The Earf while always representing his community of San Jose.
L.A.-based Filipino American singer, songwriter, and producer Vince A. is a breakaway solo artist after time in the Bay Area hip-hop group The Lychee Boys that he founded. He uses his melodies to make people feel that they are not alone and that they will be okay. Last night, the artist posted a bowl of rare, chopped steak to the Migos song Stir Fry with the caption, "HOW TO CELEBRATE SIGNING WITH @BOLOMUSICGROUP."
The Bolo fam has plans to bring some full-length albums in 2024, just around the corner. In the meantime, all three label artists plus Ibarra will make an appearance at a Spotify event in Los Angeles in November before holding a showcase at the live reggae, roots, and world music venue The New Parish at 1743 San Pablo Ave. in Oakland on Dec. 8 – tickets for the performance, $35, go on sale at 10 a.m. PT tomorrow, Oct. 26.
AsAmNews is published by the non-profit, Asian American Media Inc. We are supported in part by funding provided by the State of California, administered by the California State Library in partnership with the California Department of Social Services and the California Commission on Asian and Pacific Islander American Affairs as part of the Stop the Hate program. To report a hate incident or hate crime and get support, go to CA vs Hate.