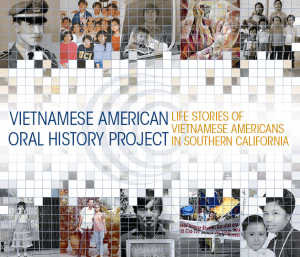 In 1975, U.S. immigration allowed for Vietnamese, Lao and Cambodian refugees.
This month, the Orange County & Southeast Asian Archive Center (OC & SEAA) at UC Irvine had its grand opening, according to the OC Weekly.
"We wanted a space where people can learn about the history of the region as well as do history," said Charla Batey. The Center will include an oral history recording room. In addition to books, dissertations and documents, there will also be art from refugees.
RELATED STORIES

First Immigration of Filipinos to the U.S.
Three Asian Americans represent Hawaii in Congress
The Japanese American and Filipino American Connection to the Spanish American War
The First Wave of Indian American Immigration
Asian Americans Were Interrogated on Angel Island
The Completion of the Transcontinental Railroad
Asian Americans a Growing Presence in Minnesota
The first Japanese immigrants and the Chinese Exclusion Act
Notable Asian American Astronauts
The Rapid Growth of Asian Americans
Richard Aoki Rose in Ranks of Black Panther Party

The First Chinese American Marine Officer‪