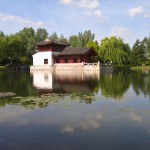 Two Chinese American painters bring unique influences from China, Europe and the United States to their landscape paintings. They'll demonstrate their influences at a convention of Outdoor painters scheduled for April in Monterey, CA.
Outdoor Painter magazine  talked with Timothy Tien & Zhaoming Wu about their styles and what makes their landscapes come to life on canvas.
Timothy Tien is an award-winning plein air artists and originates originally from Hong Kong. He'll join Zhaming Wu in a live demonstration of their landscape painting techniques.