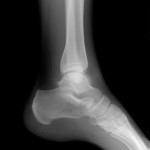 Jeremy Lin is a game time decision Tuesday against his former team, the Golden State Warriors. Lin tweaked his ankle during practice, something he has done once before this season, reports Examiner.com
The injury is said not to be serious, but any time Lin would miss could hurt. The Houston Rockets are scheduled to play four games in the coming week and are hanging on to the 8th spot in the NBA Western Conference playoffs.
Lin reportedly stepped on a teammates foot and sat out the rest of practice. He did the same thing in December, but managed to play the next day.