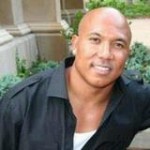 Is there anything Hines Ward won't do? The Super Bowl champ and MVP with the Pittsburgh Steelers and Dancing with the Stars Champ has his sights on more than just a Mirror Ball trophy. He's determined to be the next  Ironman Triathalon Champ.
He's putting it all on the line, launching a web series giving his fans an inside look at the intense training it will take to prepare for the ultimate athletic event. All he'll have to do in eight months is 140 miles of intense running, biking and swimming.
"I  never thought I could even run a marathon. So I skipped over a marathon and go right into a triathalon.  What a crazy guy am I," said Ward.
"No excuse. I won't have a dance partner. I don't have my teammate."
You can watch his intense training regiment on You Tube,