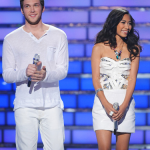 American  Idol runner up Jessica Sanchez is set to release her debut album May 7, according to the blog MJ Big Blog. Shooting is already underway for the video for her new single, Tonight.
It will be a duet with pop star, Neyo.
Meanwhile, Fox announced the finale of this year's season finale of Glee will air on May 9th. Sanchez says she will appear in an upcoming episode(s), but no date has been announced.
Sanchez has yet to do any shooting for the show.