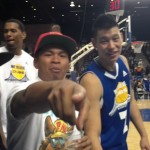 Jeremy Lin has a habit of taking it to his former team.  Last night he scored 15 points and took down 7 rebounds in a 94 -88 victory for the Houston Rockets over the Golden State Warriors. It was the Rockets third victory this season in three games against the Warriors, the team on which Lin languished on the bench before being cut before last season.
The Rockets are now just a game behind the 6th seed Warriors in the race to solidify their spot in the Western Conference Playoffs.
Lin is also 2-0 this season against the New York Knicks. The Knicks declined to resign Lin this season and instead went with Raymond Felton at the point guard position.