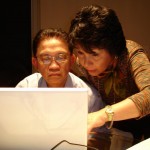 An article deemed racist by some and political satire by its author is the model minority stereotype with different stripes.
"In America, Asians live a disproportionately advantaged life where things are simply handed to them." wrote Gavin McInnes in an article titled "Tackling Asian Privilege."
As Mai Yer Xiong countered in the Wellesley News, its unclear where the satire ends and McInnes commentary begins.   The article pits Asians against blacks in an attempt to assert that white privilege is not real. McInnes also lumps all Asians together, failing to recognize the diversity of a people from a continent with 4. 3 billion people
The Wellesley News reports that McInnes tweeted "My column this week is about white privilege but I'm not sure anyone gets it."
But reaction from those readers who agree with McInnes is perhaps the best argument that his quote un quote satire is just plain racist.
According to the Wellesley News, One reader commented, "Asians certainly are, on the whole, a somewhat better class of people than Blacks and Mexicans, but that depends on the Asian… South [East] Asians are just as big of a problem as the more parasitic Blacks and Mexicans."
You can read a lot more about this controversy in the Wellesley News.
Then let AsAmNews know what you think.