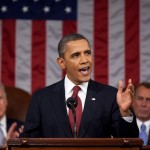 President Obama today acknowledged the increasing number of hate crimes against South Asian Americans in his proclamation declaring May Asian American & Pacific Islander  Heritage Month, reports the  Times of India.
"In the last decade, South Asian Americans — particularly those who are Muslim, Hindu, or Sikh — have too often faced senseless violence and suspicion due only to the color of their skin or the tenets of their faith," Obama said
This year marks the 25th anniversary of the Civil Liberties Act of 1988 which granted reparations to Japanese Americans incarcerated during World War II and the 70th anniversary of the Chinese Exclusion Act's repeal.
"But even now, too many hardworking AAPI families face disparities in health care, education, and employment that keep them from getting ahead," he said,
"So this month, as we recognize Asian Americans and Pacific Islanders who are fulfilling that promise in every corner of our country, let us recommit to giving our children and grandchildren the same opportunity in the years ahead," Obama said.