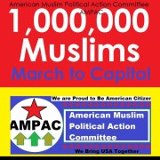 A march on Washington is nothing unusual, but one organized by Muslim Americans scheduled for September 11 is already generating both anger and controversy.
The Million Muslim March was originally announced earlier this year by the American Muslim Political Action Committee.
Today the self described "conservative news media and blog"  Biz Pac Review  condemned the march. It wrote :"Here is a novel idea for AMPAC: Why don't you march on DC on the anniversary of the worst terrorist attack on the U.S.A. and denounce those extremists in your religion who kill us and others in the name of Allah? Why don't you march and condemn the actions of fellow American Muslim Dzhokhar Tsarnaev? Why don't you call out the despicable human rights violations against women that Sharia law condones?"
AMPAC describes it as a march demanding the civil rights of Muslim Americans.
"We are demanding that laws be enacted protecting our 1st amendment . We are asking President Obama to fulfill his promise from his first campaign for Presidency of a transparent government. Lastly we are asking for the release of the 9/11 commission report to the American people."