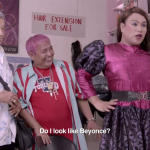 I had no idea there were so many films about gay, lesbian, transgender and bisexual Asian American and Pacific Islanders.
Rafu Shimpo reports Frameline 37 will feature 29 films created by and for the queer LGBT Asian community.
The Festival will run June 20 through 30th in San Francisco and Berkeley. It includes documentaries, shorts and feature films from around the world.
Highlighting the program is Bwakaw. Filipino megastar Eddie Garcia plays Rene, a crotchety elderly gay man who's best companion is his dog Bwakaw.
When a local funeral parlor shuts down and returns Rene's pre-purchased coffin, he begins to re-evaluate his life and sets off on a new life journey.
You can read more about the program in Rafu Shimpo and see the entire film lineup and schedule at Frameline 37.