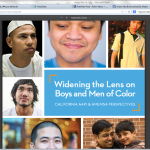 A new study out from Asian American Pacific Islanders in Philanthropy concludes that sub-groups of Asian American men are falling behind because of "deepening economic equality and racism, " reports Asian American Giving.
The report is titled "Widening the Lens on Boys and Men of Color."
It says the youth poverty rate among Hmong and Cambodians are at 42 percent and 31 percent.
That's a higher poverty rate than African Americans, 27 percent, and Latinos, 26 percent.
Among South Asian groups, Bangladeshis have a poverty rate of 44 percent and Pakistanis have a poverty rate of 31 percent.
The report also found a high incidence of post traumatic stress syndrome among Southeast and Central Asian refugee communities.
Perhaps the most alarming part of the report is the high incarceration rate among some Asian American subgroups.
In Oakland, Samoans have the highest arrest rate of any racial ethnic group and in San Francisco, Samoan and Vietnamese had the highest youth arrest rate. Chinese also had a high arrest rate.
You can read the entire report here, "Widening the Lens on Boys and Men of Color."