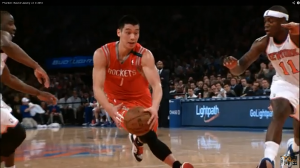 Jeremy Lin has maintained a positive public attitude through the highs and the lows.
He's heard all the criticism about his play.
His only response is that he needs to get better.
He's heard the rumors that he will be traded.
Jeremy says he's happy to play anywhere.
He knows some are calling for Patrick Beverley to take his place as the starting point guard for the Houston Rockets.
Lin will let his play on the court do the talking for him.
Now the latest is that even if Lin gets playing time with Howard on the court, he won't see much of the ball anyway.
According to Alex Groberman of Opposing Views, just like last season, James Harden will dominate the ball.
So if anyone's going to work the pick and roll with Howard, it will be Harden and not Lin, says Groberman
Makes sense to me. The only way Lin gets to handle the ball next season is if coach Kevin McHale change his offensive philosophy.
Unless that changes, we'll be seeing Harden and Howard basically play a two man game with an occasional shot going to Chandler Parsons. Lin will be the fourth option at best.
What do you see as Lin's role on the Rockets next season?