Asian American Film Lab is set to launch its new web television channel on September 30th.  Curious minds want to know more.  AAFL President Jennifer Betit Yen (pictured left on the set of the upcoming series My Not So SubConscious) recently answered the following questions from AsAmNews.

What is the inspiration for AAFL-TV?
Every year, the Film Lab runs the 72 Hour Shootout filmmaking competition, in which we bring in celebrity and industry judges such as Russell Simmons and Marci Phillips and David Henry Hwang, to empower filmmakers – particularly Asian American filmmakers – to create their own content and stories.  The top ten premiere at the prestigious Asian American International Film Festival in NYC.  Over the past two years, the number of entries has skyrocketed, as has a corresponding demand for diverse, original entertainment content and, also, complaints about the so-called "mainstream media" being too homogenous and not accurately reflecting the beauty and diversity of our cosmopolitan and heterogenous country.  With this is mind, I gathered a small group of top ten Shootout filmmakers, writers and actors to form the Film Lab's first ever year-round production arm.  We created AAFL TV as an answer to the demands for diverse original and contemporary entertainment, not just for Asian Americans, but for all Americans who want innovative, bold, fun entertainment that accurately reflects the multi-colored face of our country.
Where can AAFL-TV be seen? (web address)
UPDATED SEPT 30: Here's a  link to the first episode: http://j.mp/1heVC67
www.asianamericanfilmlab.org and .com.  You can also read more on the Facebook Fan pages, both for AAFL TV and MY NOT SO subCONSCIOUS and our primary Film Lab Facebook page (/AAFilmLab) and via Twitter @asamfilmlab #AAFLTV.
Tell us about each of the pilots being produced, how many webisodes of each series have been greenlighted , and when will they each premier?
The Film Lab formed the Production Arm quite recently – in August 2013.  We approved four pilots ranging from comedy to news to interactive mystery/suspense, with the first episode of the first pilot set to air on September 30, 2013.  The pilots are:
(1)  
MY NOT SO subCONSCIOUS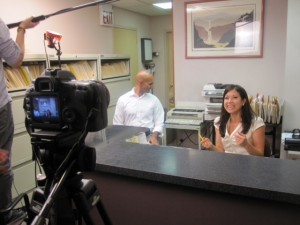 A comedy web series in which a woman's inner thoughts literally take on a life of their own.  The first episode of Season 1 will premiere on Sept. 30, 2013.  Principal photography is complete for the entire Season 1 and the Production Arm has green lit the scripts for Season 2.  This series was written by Top Ten 72 Hour Shootout filmmaker, Kamran Kahn, and starts Kamran Khan and Jennifer Betit Yen (both of whom can also be seen in the short film, "MARTINI" also starring James Kyson, of the tv show HEROES fame and available on AAFL TV).
(2)  AMERICAN ASIANS IN TV, THEATRE, FILM, ETC., ETC., ETC.
This news show involves interviews with Asian Americans in the entertainment industry and takes a light hearted yet in-depth look at race relations in Hollywood/on Broadway.  The show includes a re-enactment portion.  It is set to premiere in October 2013 and the pilot episode features writer, actor and activist Christine Toy Johnson.
(3)  THE PANTHEON PROJECT
This educational and comedic series is aimed at high school/college students and is co-created by Barnard College Athena Scholar and Film Lab intern, Jodie Chiang.  The series revolves around a grad student who finds herself living with multi-cultural Gods who have come to live among humans.  The Pantheon Project is set to premiere in November 2013.
(4)  TREASURE HUNT
An interactive mystery and suspense series created by Top Ten 72 Hour Shootout filmmaker Daniel Finley (his bio is also online at
www.asianamericanfilmlab.org
).  Set to premiere in December 2013/January 2014.
For those that aren't familiar with the 72 hour shootout, what is it?  Was it always in the plans to launch AAFL-TV? If not, how did the idea come about?
The 72 Hour Shootout is a global film making competition in which teams have only 72 hours within which to write, cast, shoot, edit, and score a short film of 5 minutes or under, based on a common theme.  At least one lead actor and one principal crew member must be of Asian descent and filmmakers are encouraged to create casts and crews that are very diverse and multi-cultural.  The Film Lab runs the Shootout every year in conjunction with Asian CineVision and the Asian American International Film Festival and celebrity judges have included hip hop icon Russell Simmons, ABC Executive Director of Casting Marci Phillips, playwright David Henry Hwang, and FOX Japan Producer Dan Smith.  2013 marked the ninth annual 72 Hour Shootout.
There was never a plan to launch AAFL TV until this past year.  After seeing the incredible talent and the intense demand for diverse content, I determined that Film Lab could best serve its members by creating a production arm, not only to provide an answer to the demands, but also to nurture and support our members in telling creative, diverse, original stories and giving diverse filmmakers a platform that might otherwise not exist to showcase their works, not just once a year as with the Shootout, but all year round.
What distinguishes AAFL-TV from other entertainment shows on the web?
AAFL TV is not just about one ethnic group like the majority of "non-maintream" programming and it rejects the homogeneity of so-called "mainstream" programming.  AAFL TV is made for all Americans who want bold, fresh, fun entertainment that is consistently diverse, multi-cultural and a more accurate reflection of the cosmopolitan society that the U.S. IS, whether or not the "mainstream" cares to admit it.
What do you want viewers to take away from AAFL-TV?
Fun.  We want people to be entertained and to come away a little bite (*or more) of delicious entertainment whenever and wherever they want it, while fighting the perception that content with diverse casts won't be watched by white viewers.  AAFL TV aims to show that viewers of all colors just want a good story and a little bit of fun and, if the cast and crew is that much more diverse, it is the icing on the cake!