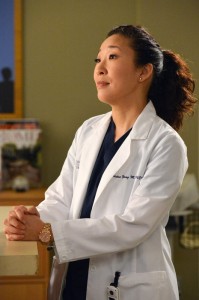 The lights will soon go down on Dr. Cristina Yang, one of the last original characters left on the long running show, Grey's Anatomy.
The Christian Post reports Sandra Oh is shooting her final scenes for the ABC series.
Rumors about how Yang will depart the show range from she will travel to Europe (seems too tame) to she will die in an explosion as she prepares to leave for Europe (Yikes, they wouldn't kill Cristina, would they?).
Oh told the Hollywood Reporter "I want this to be a celebration. I want us to get to that point where we see this character ride off into the sunset … Playing Cristina and growing her and growing myself in her, I want to usher her into the next section of her life in the best way possible. It's got to be Cristina Yang's happily-ever-after."
There are also rumors other characters on the show will also be making their exit.
You can read about that in the Christian Post.