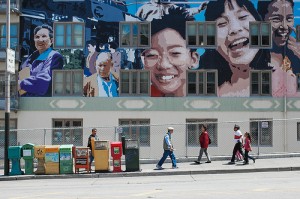 San Francisco's Chinatown could become foodie heaven lined with gourmet Chinese restaurants with streets decorated with life-sized art on the street, reports CBS SF (Photo by jakubkadlec).
Those are just some of the ideas being discussed by a committee of young residents and business people organized by business owner Betty Louie.
The bottom line, says the committee, is that Chinatown is looking worn and dumpy and something must be done to update it.
"My thought is to showcase what farmers are doing here now and also cleaning up a lot of food," said up and coming chef Brandon Jew. " A lot of it is getting rid of imported stuff from China and just make it here."
Restauranteur George Chen is set to turn a 20,000 square foot property on Broadway into a food marketplace and destination restaurant.
You can read about plans to update the decor in Chinatown on CBS SF.