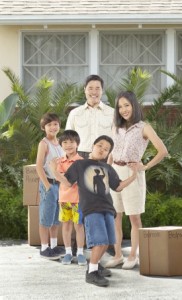 It seems you can't read an article about the new ABC show based on Eddie Huang's memoir Fresh Off the Boat without seeing a mention of Margaret Cho's All American Girl.
Although Cho's show aired 20 years ago, it was the first Asian American family sitcom on network television.
Huang's show, which is likely to be called Far East Orlando, will be the second.
Two recent blogs offer contrasting views of the similarities between the two shows.
Jeff Yang's piece for Quartz was written prior to the announcement by ABC it was placing Huang's show on the fall schedule.
The blog by Philip in YOMYOMF was written shortly after.
Philip says its unfair to treat Far East Orlando as the new All American Girl.  He also thinks its not right to treat Far East Orlando as the great yellow hope.
Yang on the other hand hopes Far East Orlando is nothing like All American Girl which was cancelled after just one season. Yang was among those Asian Americans who slammed Cho's show back then. Today, Yang's son Hudson has been cast to play the young Eddie Huang.
Check them both out and let us know what you think.