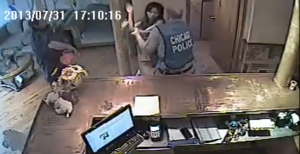 Dozens of Asian Americans jammed into Chicago Mayor Rahm Emanuel's office demanding officers be held accountable in the suspected police brutality incident of a 110 pound Asian American woman, reports DNA Info Chicago.
A surveillance camera which captured the incident appears to show an officer smacking the naturalized Chinese American woman and another officer screaming "You're not f—— American! … I'll put you in a UPS box and send you back to wherever the f— you came from,"
"Some may find it shocking to hear those words coming out of a Chicago police officer's mouth, but many of us in the Asian American community have been told all our lives that we don't belong and to go back to wherever we came from," said Nebula Li, an attorney who handles police brutality cases.
The Sun-Times reports authorities knew about this incident for several months, but did nothing about it.
Last week Officer Frank Messina who is accused of hitting the woman was stripped of his police powers.
You can read more details about what happened in DNA Info Chicago.