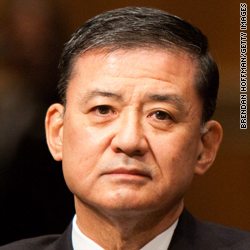 General Eric Shinseki is no stranger to battle.
The former Chief of Staff of the US Army and now Veteran Affairs Secretary is a veteran of the Vietnam War.
He had part of his front foot amputated after being injured in a landmine explosion.
But now he's in the fight for his career following a blistering report on wait times averaging 115 days for appointments at the VA's Phoenix facility and the use of scheduling practices there that concealed those waits, according to the Washington Post.
In a blog written by Shinseki for USA Today, he said he was "committed to restoring integrity."
He said he has immediately ordered staff to contact the 1700 veterans on the wait list to get them the care that they need.
"We are already taking action consistent with the recommendations of the interim inspector general's report. We will fully implement his remaining recommendations."
Senior leadership at the Phoenix facility were put on administrative leave May 1.
You can read more of what Shinseki says he is doing to turn the situation around in USA Today.
But will it be enough?  Calls for his resignation are coming from both Republicans and Democrats.