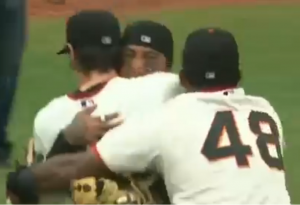 The magic number is two for Filipino American Tim Lincecum.
Two time Cy Young and World Series winner pitched his second no-hitter in two years today, reports KGO-TV/ABC7.
The 4 – 0 victory was also the San Francisco Giant second no-hitter against the same team, the San Diego Padres.
Oh, Lincecum also had two base hits today.
"When I got my hit, really, to be honest with you, I felt like it was going to be a good day," he said. "And, when I got the second one, even more so. But, it's fun when you can actually put the pieces together on both sides of the field. You know, I'll be honest with you, I didn't feel like my stuff was great. You know, I think the more [the ball] was down, the more movement it had. It didn't feel like it was a stuff day, it just felt like it was a location day."
You can watch highlights and more reaction in the clip above from KGO-TV/ABC7.