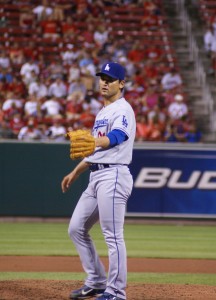 Two of Asia's pioneering baseball pitchers will be recognized at ceremonies in their respective home countries Friday, reports KoreAm.
Chan Ho Park, 41, is the first South Korean to play in major league baseball and will be honored at the Korean Professional Baseball All-Star Game at Champions Field in Gwangju, South Korea. Park spent nine seasons with the Los Angeles Dodgers, but also played with the Philadelphia Phillies, the New York Yankees and the Pittsburgh Pirates, among others. Park retired in 2012 after 17 seasons in major league baseball with 124 career wins, the most for an Asian-born pitcher.
In an interview with KoreAm last March, Park spoke about the support of the Korean American community during his years in the United States.
Hideo Nomo, 45, is Park's former teammate on the L.A. Dodgers and will be
inducted into the Japan Baseball Hall of Fame on the same day prior to the Nippon Professional Baseball All-Star Game in Tokorozawa, Japan. Nomo, who started his baseball career in Japan, is the first Japanese-born major leaguer to permanently relocate to the United States (Photo by Ryosuke Yagi)
"Nomo and Park are both true pioneers," said former Dodgers president Peter O'Malley in a released statement. "I am very proud of their leadership and their ongoing commitment to youth baseball in Japan and South Korea" he said.
O'Malley signed the two pitchers from their respective countries in the early 1990s. Since then, there have been 40 Japanese players and 14 South Korean players in the major leagues.
You can read more about the pitchers' success at KoreAm.