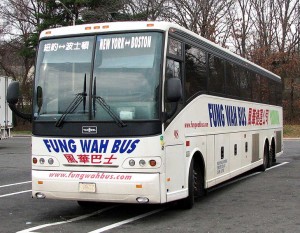 Federal regulators have taken the air out of the tires of the once popular discount bus company Fung Wah, reports DNA Info NY.
The Federal Motor Carrier Safety Administration has nixed plans by Fung Wah to return a year after it was shut down for safety violations.
That's twice now the FMCSA has said no to Fung Wah's plans–once in January and again on September 11 when it decided on the company's appeal.
"The agency denied Fung Wah's most recent appeal for operating authority because they failed to provide sufficient evidence on how they would comply with federal safety standards, including how they would conduct future drug testing, how they would properly train their staff moving forward, and any corrective action that was taken to counsel or discipline the staff who falsified records in the past," the FMCSA said in a statement.
You can read about Fung Wah's past safety violations and efforts to reopen in DNA Info NY.