It looks like it will take one of those Hollywood Disney-like finishes to save Selfie.
Just days after the Disney-owned ABC announced it would not reverse its decision and bring back the program, Hulu declined to pick up Selfie for its second season.
The TV show that generated legions of loyal fans never gained traction in the ratings and was cancelled after just seven of the 13 produced episodes aired.
Hulu Plus released the remaining six unaired episodes.
The John Cho-Karen Gillan comedy was often listed by Hulu as the most viewed on its digital platform. That however wasn't enough for it to order a second season.
Save Selfie movement organizer Erica Lawson announced Hulu's decision on Twitter.
Guys, I have some bad news. I'm really sorry, but @hulu has given us a definite NO to #saveSelfie. #SelfieABC #SelfieHulu

— Erika Lawson (@erikalawson90) January 22, 2015
Hopes are dimmed, but not completely. As Jamie Schneider, one of the most active Save Selfie members told AsAmNews "We still believe Netflix or someone will pick it up. Thank you for continuing to support us!"
So what's left to do? Contact Netflix.

Continue to encourage Warner Bros to shop the show around and find a new venue.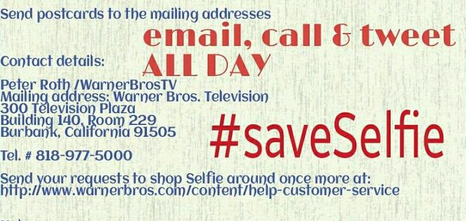 Share the petition which is nearing 55,000 signatures.
Henry is not done with Eliza just yet. Let's find out if the two will ever hook up.