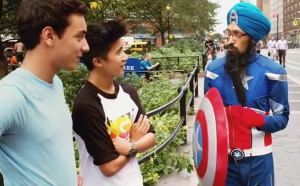 If you saw a Sikh Captain America wearing a turban and beard walking down the street, would your head turn?
Vishavjit Singh is the Sikh Captain America and wouldn't mind if you stare.

"I want to challenge people's perceptions, I want them to have a mind freak when they see me," Singh told the BBC.

He's not an exhibitionist (well maybe he is). He's trying to confront stereotypes about Sikh Americans and change people's acceptance of Sikhs.
You can read more about his fight against intolerance in the BBC.
You can watch his recent video of his exploits below.