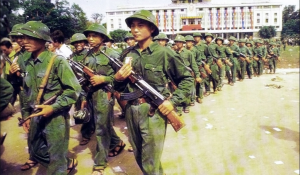 April 2015 will mark the 40th anniversary of the Fall of Saigon.
Together with PBS American Experience, StoryCorps is traveling to six cities in the United States seeking stories of Vietnamese American refugees and American veterans, reports the Center for Asian American Media.
StoryCorps records 40 minutes of conversation between two people about their experience. Its often between two people of different generations, but it doesn't have to be.
They'll be traveling to San Jose, Westminster, Seattle, Houston, Boston, Washington, D.C.
To share your story, you can go to the Center for Asian American Media for more information.