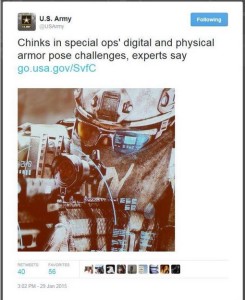 The adverse reaction to a US Army tweet using the phrase "chink in the armor" caught it off guard, reports the Washington Post.
The Army immediately deleted the tweet and changed a headline which also used the phrase in a news release. It did not apologize, instead saying "there is nothing even remotely racial" in the expression.
"The phrase and word have been in use for more than 600 years; it is a proper noun, meaning a "crack" or "fissure," as defined by Webster's," said Lt. Col. Alayne Conway, an Army Public Affairs Specialist. "Nevertheless, based on feedback from some followers who expressed offense, we deleted it. It was certainly not our intention to offend anyone."
The incident along with a similar incident involving Jeremy Lin in 2012 has raised the issue of whether the usage of the word should be stopped.
You can read more about that in the Washington Post.
RELATED STORY: