People use food as a social mechanism in which people are able to engage in social gatherings. You often hear people ask "Do you want to get Chinese?" or "Do you want to get Mexican?" and the likes. It is more often than not that most consumers do not question the historical and cultural origins of such foods, but rather treat it as a flavor.
In the food conversations you hear among many people, the
different cultural foods are sometimes treated as a medal of experience. As conversations go, you might hear something similar to "Have you tried Korean? I've tried everything" or "Have you tried Lebanese? It's really exotic." In most of these conversations the discussion of the cultural significance behind the foods are almost always absent. Imagine a conversation where in response to the question "Have you tried Korean BBQ?" You reply "No I haven't, but what is the cultural history behind it?" The reaction, in most cases, would almost immediately begin with a blank stare followed by an "Oh, I don't know."
These common examples can be indicative of how capitalism through the manipulation of commodification, have hindered the process of cultural understanding. Cultural foods play key roles in binding ethnic groups together as it contributes to forming a collective identity. To enjoy ethnic foods simply as a flavor at the expense of unique cultural history, for the mere cost of money, substantially erodes the cultural value behind it. It is important we understand the cultural significance of ethnic foods as it has been passed on through generations.
Food has served as the most important physiological need to humans. It is the key element to human survival. Throughout history, food has served many purposes other than nourishment. The most recognized is through its symbolic use, in which people practice their inherited culture.  Traditions and rituals have acted as integral parts in the cultural process of food. In contemporary times, food has taken a new role. In today's society, the common connotations behind food are varied. They include:
basic nourishment for the body
health and dietary needs
wide range of different experiences
exposure to different tastes & flavors
adventure of trying something new
As a developed country, America enjoys food as more than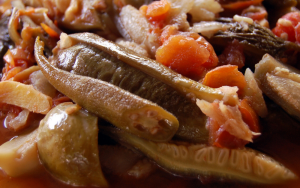 just a basic need. Rather, it has become an experience and a commodity. Being a country of diversity, America has an endless amount of ethnic food options to choose from. While this may be a gluttonous heaven for many, the cultural significance behind these cultural foods is lost. Commodification of ethnic foods has deteriorated the cultural value of foods and has created an apathy for cultural understanding. This same notion is apparent in other cultural properties as well, such as martial arts both as a commodity and in media, things related to Buddhism, cultural practices such as yoga, or even the widely popularized Kama Sutra.
The ramifications of cultural commodification become vast, especially as cultural foods are taken for granted on an everyday basis. Taco Bell serves as the best example as it is Mexican food in McDonald's form. Chipotle is also another great example of commodification of cultural foods as it used to be owned by the McDonald's Corporation, although not as widespread as Taco Bell. Cultural foods have been relegated to an assortment of different flavors of food rather than its respectful nature. The commodification of culture in capitalism fades the cultural significance of food and practices, and undermines the cultural history of ethnic groups.