The Internal Affairs Division of the New York Police Department is investigating a traffic stop by one of its officers in an unmarked car that turned into a verbal tirade, reports Indian Panorama.
The incident between the officer and a Uber driver was caught on video by a passenger, Sanjay Seth, and posted on You Tube.
This is the written description Seth posted along with the video.
"Police abuse of Uber driver in New York City. In an unmarked car, the policeman was allegedly attempting to park without using his blinker at a green light. (His reverse lights weren't on. Likely double parked without hazards on.) The Uber driver pulled around and gestured that he should use his blinker, casually and non-offensively, and kept driving us. The policeman quickly pulls up behind us and this is what happens.

"(This occurred just before 2pm on the West side of Manhattan, in police precinct 6, on March 30th, 2015. The officer did not identify himself, but he had a New York license plate: GSS 8891)"
"Stop it with your mouth, stop it with your for what, sir," the officer screamed. "Stop it with that bullsh*t and recognize the three vehicle and traffic law violations you committed."
The officer is heard on the video angrily accusing the driver of interrupting him when the driver apparently was only saying things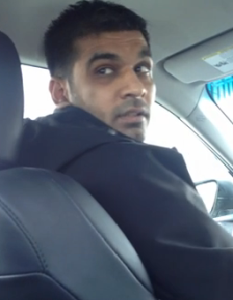 like "Ok" and "yes."
"Let me tell you something, the next time you do it again…,"
"Ok," said the driver.
"Ok, what? You don't let me f**king finish. Stop interrupting me," yelled the officer.
"I apologize. I'm sorry," said the driver.
"When you're driving up my ass when I'm trying to park the car and then you have to do something with your hands."
"I'm just trying to say…
"I don't care what you have to say… how long have you been in this country?"
"Almost two years."
"How long?"
"Two years."
"The only reason you're going to jail and not getting summoned to the police station is I have things to do…this isn't important enough for me. You're not important enough."