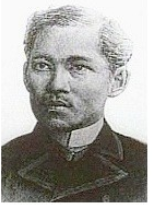 The bust of Philippine national hero Jose Rizal has been stolen in Chicago, reports DNA Info.

Rizal is considered one of the greatest heroes of his country. He pushed for peaceful reform under Spanish rule and was executed for rebellion at the age of 35.

Thieves made off with a bust in his honor from the Rizal Heritage Center during a celebration of the Blackhawks NHL championship several weeks ago. Witnesses saw six people steal it off the pedestal and now the Filipino American Council of Greater Chicago is asking for its return.

"None of us are millionaires," said council president Dr. Rufino Crisostomo. "But if we don't protest this kind of incident, what kind of dignity would we have as Filipinos? We won't have any dignity at all."

You can read about efforts to replace the bust if it is not returned in DNA Info.