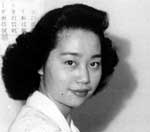 The California State Senate has joined the effort to encourage President Obama to grant a Presidential Medal of Freedom to Mitsuye Endo, reports
Rafu Shimpo.

The names of Fred Korematsu, Gordon Hirabayashi and Minoru Yasui are etched in American history for their courageous stance against the incarceration of Japanese Americans when most others remained silent.

Endo along with Korematsu, Hirabayashi and Yasui challenged the constitutionality of the incarceration camps in the U.S. courts. Endo's case ended in victory in 1944 when the US. Supreme Court that led to the closing of the camps.

The California State Senate passed a unanimous resolution in support of Endo winning the presidential medal.

It reads:

"Although two of these plaintiffs, Fred Korematsu and Gordon Hirabayashi, were awarded the Presidential Medal of Freedom, Endo, who brought the only victorious legal challenge filed by a Japanese American during World War II, has not …

"Endo is an authentic American heroine who made a principled, courageous, and historic stand and voluntarily sacrificed her own freedom to secure the rights of all Japanese Americans who were forcibly removed from their homes and confined in camps without the benefit of due process."


A similar effort is underway to encourage the granting of a presidential medal to Yasui as well.

You can read more about Yasui, Endo, Korematsu and Hirabayashi in Rafu Shimpo.