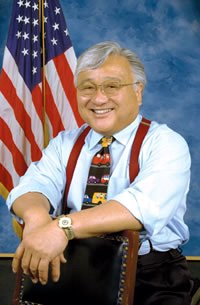 Rep. Mike Honda (D-CA) beat back a strong challenge from his opponent Ro Khanna and won the State Democratic Party's endorsement for reelection, reports SF Gate.
Khanna, who is running against Honda for the second straight time in Santa Clara/Silicon Valley, has touted that many who endorsed Honda in 2014 had jumped onto his side.
Honda won well over the 50 percent needed for the endorsement.
Khanna currently leads in fundraising efforts and Honda has been distracted by a Congressional ethics probe looking into allegations his campaign used taxpayer resources for his reelection in 2014.
Khanna openly expressed frustration at his defeat even before the final votes were counted, calling the voting rigged.
"There are a lot of allegations (Khanna) has put out there over time," Honda said. "It gets pretty tiring."
(AsAmNews is an all-volunteer effort of dedicated staff and interns. You can show your support by liking our Facebook page at www.facebook.com/asamnews, following us on Twitter and sharing our stories.)