It's been an interesting week for Asian American students across the country.
At UC Berkeley, Pacific Islander students successfully convinced a Greek fraternity to cancel its "Sigma Alpha Maui."
An event flyer described the party this way:
Aloha haoles. Stop your studying for midterms procrastination bs for one night to come to Sigma Alpha Maui. Wear your favorite Hawaiian shirt and filp flops. It's going to be one giant ratchet luau. Okole's will be droppin on the dance floor. Contact a brother or kapuna for a spot on the guest list. Mahalo and Mele Kalikimaka.
Mele Kalikimaka is Hawaiian for Merry Christmas. Yes, Merry Christmas in March. The use of the word without regard to its appropriateness, the idea that one can throw out any word from the Hawaiian language in an attempt to legitimize a Hawaiian party theme, was found "highly offensive" by members of the Pacific Islander community on campus.
Sigma Alpha Mu apologized to the students and changed its party theme to "Sigma Alpha Monsoon." Never mind that 42 people recently died in a monsoon on Fiji.
You can read about the Pacific Islander student response to all this in the Daily Cal.
The East Coast Asian American Students Union held its annual conference at Rutger's University last weekend, reported the Daily Targum.
Using the theme "beyond our boundaries," organizers encouraged conference goers to stretch beyond their comfort zone and engage in political activism, mental health issues and identity. issues.
"One of our biggest issues, is that we're being ignored, and sometimes, a lot of people say 'you're technically a person of color,' but at the same time people kind of see us as people of privilege," said Austin Yip, one of this year's conference directors.
At the University of Wisconsin, a big push is underway to establish a Hmong American Studies certificate program. A petition to support the idea generated more than 1,000 signatures in just a couple of days. That's two times the original goal.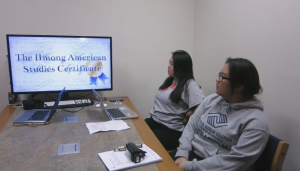 "The only reason we got the petition is because we want to show [university administrators] that this is not just a few of us who are into this, but a variety of students who are supporting us and are interested in pursuing the certificate," Pangzoo Lee told the Badger Herald.
Several faculty members have already gotten behind the idea. There are an estimated 60,000 Hmong in Wisconsin.
In California, Stanford alum and the man considered the godfather of Asian American theater spoke with students before being honored at the Second Annual Symposium in Equity in the Entertainment Industry and Awards, reported the Stanford Daily.
Roger Tang worked with fellow student David Henry Hwang to produce Hwang's play FOB back in the late 70s. The play was first performed in the dorms and the rest was history.
"He then submitted it to the O'Neill Conference, where it was selected as one of top new plays of the year. And from there it went on to the Public Theater, where it received an Obie for best new play off Broadway. And that first started me on the path in theater because, well, if David could do that, maybe I could get somewhat close to that," Tang said.
Tang has produced numerous plays including Philip Gotanda's Dream of Kitamura, Genny Lim's Paper Angels and Hwang's Bondage.

(Campus Round Up is a semi-regular feature on AsAmNews featuring news from college campuses around the country. Let us know what's going on on your campus by writing info at asamnews dot com or using #AsAmNewsCampus.)
(AsAmNews is an all-volunteer effort of dedicated staff and interns. You can show your support by liking our Facebook page at www.facebook.com/asamnews, following us on Twitter and sharing our stories.)