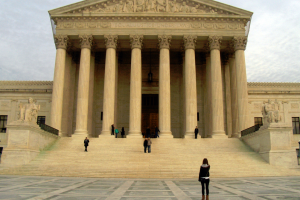 Several national news organizations are quoting unnamed sources who say that U.S. Court of Appeals Circuit Court judge Sri Srinivasan from Washington, D.C. is one of three finalists for a Supreme Court nomination.
Reuters, the Washington Post and PBS are among those reporting that Srinivasan, Merrick Garland, who sits as chief judge on the same court with Srinivasan and Paul Watford of the 9th circuit court in California, are the top three contenders to be nominated to replace the late Justice Antonin Scalia.
A formal announcement could come on Monday.
There are several obstacles to any nominee being confirmed, the biggest is a threat by Republicans not to bring any nominee up for a confirmation hearing until after the next president takes office.
"Crucial questions regarding the civil liberties and religious freedoms of citizens of the United States sit before the Supreme Court," the South Asian Bar Association of North America said to the Washington Post. "The impact of refusing to consider any nominee threatens not only a fair and reasoned consideration of these crucial issues for two full terms of the Supreme Court, but the separation of powers upon which our democracy is based."
Srinivasan was born in India and emigrated with his family to the United States at an early age. Some liberal groups are concerned about his nomination because he has represented several corporate clients during his years as an attorney with O'Melveny & Myers, according to The Hill. Among his clients has been Exxon Mobile.
"It's hard to find a worse client than defending Exxon Mobil against allegations of torture and war crimes," Jamie Henn, communications director for 350.org, said.
(AsAmNews is an all-volunteer effort of dedicated staff and interns. You can show your support by liking our Facebook page at www.facebook.com/asamnews, following us on Twitter and sharing our stories.)