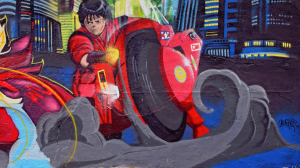 By Louis Chan
AsAmNews National Correspondent
Director Justin Lin may be called upon to direct the much maligned movie adaptation of the popular Japanese anime, Akira.
Akira has been in the development stage since at least 2011 and has been engulfed in controversy for its whitewashing of Asian characters. At least three directors connected to the project have dropped out.
We Got This Covered quoted the former editor of The Wrap, Jeff Sneider, who says Warner Bros has reached out to Lin to join the project. Neither the movie studio or Lin himself have commented on the rumor.
It's difficult to imagine why Lin would accept such an assignment. The Taiwanese American director is said to want to leave a legacy for his children and has put some of his capital behind the blog site YOMYOMF. YOMYOMF-Akira–That's quite a contradiction.
It's also difficult to see why Warner Bros would want Lin other than his resume screams success with such projects as Fast & Furious, Better Luck Tomorrow and now Star Trek. If they're determined to whitewash this movie, why would you bring in someone like Lin who could potentially stand up to the Hollywood execs and do it his way?
Could it be that Warner Bros is considering putting the controversy behind it and allow Lin the creative freedom to interpret the movie his way? Up to now, Warner Bros has shown no indication of doing that.
We'll keep a close eye on this one for any developments.
AsAmNews is an all-volunteer effort of dedicated staff and interns. You can show your support by liking our Facebook page at  www.facebook.com/asamnews, following us on Twitter, sharing our stories, interning or joining our staff.