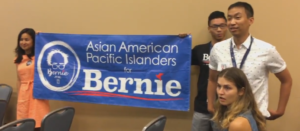 On Monday morning of the Democratic National Convention, a few hundred members of the Asian American Pacific Islander (AAPI) Caucus gathered to discuss the election.
AAPI Democratic delegates make up almost 200 Clinton delegates, according to Vikrum Aiyer, deputy director of the AAPI media center, DNC,  told NBC News. A majority of the AAPI Clinton delegates are from California.
For many of those who attended the AAPI Caucus meeting, Clinton is largely viewed as the best choice for the party and the country.
U.S. Rep. Judy Chu (D-CA), chair of the Congressional Asian Pacific American Caucus (CAPAC), commended the Clinton campaign's efforts to engage AAPI voters. Chu believes Clinton will prioritize issues like immigration reform and access to higher education.
Bel Leong-Hong, AAPI caucus chair for the DNC, acknowledges this election as a pivotal moment for the country, stating "We're going to be making history in electing the first woman president."
Jean Quan, former mayor of Oakland, California, feels Clinton is the more qualified to deal with climate change, an important issue for Quan.
But not all AAPIs are on board with Clinton. Four supporters of Bernie Sanders interrupted the meaning and held up a banner that said "Asian Pacific American Islanders for Bernie."

Joan Mao, a Sanders supporter from Los Angeles, plans to vote for Green Party candidate Jill Stein. "It's completely unfair, and they rigged the election to put the weaker candidate against Donald Trump," she said.
The protesters were allowed to stay in the room.
Joseph Cho, the Harvard student who was recently asked by Trump if he was from South Korea, stated the importance of keeping their eyes on the larger prize – the White House.

AsAmNews is an all-volunteer effort of dedicated staff and interns. You can show your support by liking our Facebook page at  www.facebook.com/asamnews, following us on Twitter, sharing our stories, interning or joining our staff.