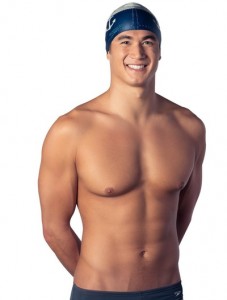 By Louis Chan
AsAmNews National Correspondent
Three-time Olympic gold medalist Nathan Adrian of Team USA will defend his crown at Rio as the underdog.
It's a position that Nathan, whose mother was born and raised in Hong Kong, is accustomed. Few expected him to win the top prize at the London Olympics in 2012, but he walked away with two gold medals and a bronze to go with his gold from Beijing.
TV analyst and former Olympic swimmer Rowdy Gaines thinks Adrian's underdog position may be a good thing.
"I think it will be better for (Nathan), like in London (when) he certainly was not the favorite," Gaines told the Kitsap Sun. "It's perfect for him."
As for Nathan himself, he's never been one into predictions.
"I've never been in the game of predicting my time," he said. "I guess I have, I tried, but I failed miserably so I stopped trying. What I focus on is try to nail the certain aspects of my race. The more I can do that, the more I can hone in on that, the time always takes care of itself."
Nathan comes from a family of three children. His mother, Cecelia learned to swim at an early age, but never competitively.  His oldest sister Donela swam for Arizona State University and his older brother Justin received a full scholarship to swim for the University of Washington. Nathan swam for the University of California, Berkeley.
"We have allowed Nathan a lot of freedom to make choices in his life, the only criteria is that his academic grades would not suffer; whatever he did ( does ) he has to stick with it, start to finish; and all we ask is he does his best," explained his mother to Swim Swam. When he was in 7th grade, he wanted to leave our local swim team and join the Tacoma Swim Team which is 40 miles away. We made that trip to Tacoma for 6 years, snow or shine and never looked back."
Adrian will compete in the 4 x 100 free relay Sunday. On Tuesday, he's set to swim in the 100 free prelims, hoping to make it into the semifinals that night and the finals on Wednesday. The 50 free plelims and semifinal is Thursday with the final on Friday. He's also expected to be part of the 4 x 100 medley relay on August 13.
AsAmNews is an all-volunteer effort of dedicated staff and interns. You can show your support by liking our Facebook page at  www.facebook.com/asamnews, following us on Twitter, sharing our stories, interning or joining our staff.