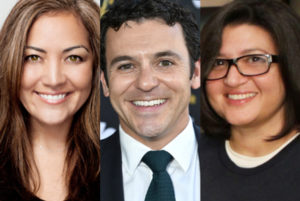 Fresh off the Boat creator and executive producer Nahnatchka Khan will team with the show's co-executive producer Kourtney Kang and actor-director Fred Savage for a pilot about a girl growing up in a mixed race family.
The show is not yet titled, but according to Deadline, it will be centered around what its like to grow up as a girl in the only mixed-race family in Philadelphia.
It is based on the life of Kang who was born in Hawaii. She worked as a writer of the long-running hit show How I met Your Mother and eventually moved up to executive producer.
Savage recently starred on The Grinder on Fox and is best known for his role on The Wonder Years.
The pilot if successful would likely be picked up for the 2017 -2018 season. No roles have been cast, but there seems to be opportunity here for an Asian American actor in the lead role.
Given the people behind the show, another Aloha Emma Stone controversy seems unlikely.
RELATED: Cameron Stone Apologizes for casting Emma Stone in Aloha

Asian Americans have Themselves to Blame for Cameron Crowe and Emma Stone