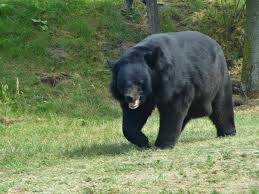 By Ed Diokno
A man pleaded guilty for unlawfully trafficking in American black bear parts and organs.
Vu Johnnie Nguyen of Virginia Beach, Virginia, pleaded guilty Monday in U.S. District Court in Asheville, North Carolina, to federal charges for unlawfully trafficking in American black bear gall bladders and other American black bear parts, the Justice Department announced.
The conviction arose from a year-long investigation into Nguyen's unlawful purchase, sale and transportation of American black bear parts from the Western District of North Carolina. Bear gall bladders and paws are often used in Asian traditional medicine markets.
"The American Black Bear is a beautiful sight to behold by hikers and campers in the Blue Ridge Mountains and elsewhere in North America, and we will not allow their parts, such as gall bladders, to be taken and sold," said Assistant Attorney General John C. Cruden of the Justice Department's Environment and Natural Resources Division. "Black bears are a protected species under both U.S. and North Carolina laws and we will prosecute those who attempt to deal illegally in their parts."
A Black Bear gallbladder can be purchased from a poacher in Idaho for $15, but in Hawaii, it brings $1,500, and in Korea, as much as $15,000. The highest known payment for a Black Bear gallbladder is $45,000.  Black Bears can grow up to 7-feet long and weigh up to 300 lbs.
"Nguyen repeatedly engaged in the illegal trafficking of American black bear gall bladders and other parts, a crime that is both reprehensible and a violation of federal and state laws," said U.S. Attorney for the Western District of North Carolina Jill Westmoreland Rose. "The abundance of American black bears in western North Carolina mountains often attracts the attention of traffickers looking for a steady source of supply of bear parts to satisfy the ever growing demand in domestic and foreign black markets."
"When we think of the victims of wildlife trafficking, it's elephants and rhinos in Africa, tigers in India and parrots in South America that usually come to mind; but there are many animals and plants here in the United States that are also repeatedly subjected to poaching for illegal international trade, including black bear," said U.S. Fish and Wildlife Service Director Dan Ashe.
Nguyen entered his guilty plea before U.S. District Court Judge Dennis Howell for the Western District of North Carolina —specifically, a felony charge under the Lacey Act. The Lacey Act is the federal law that makes it illegal to transport or sell wildlife taken, possessed, transported or sold in violation of state law. Animal parts, like American black bear gall bladders, paws, claws and meat are considered wildlife under both the Lacey Act and North Carolina law and under North Carolina law, it is illegal for anyone to possess for sale or buy any bear or bear parts.
According to the documents filed with the court, Nguyen engaged in the illegal sale and purchase and intent to sell American black bear gall bladders, claws, bear paws and approximately 50 pounds of American black bear meat in 2014.
Nguyen further admitted that on three separate occasions—Jan. 6, 2014, March 5, 2014, and Dec. 17, 2014—he knowingly transported or caused to be transported American black bear parts when he knew that they were sold in violation of North Carolina law.
Nguyen faces a maximum sentence of five years in prison and a $250,000 fine. As part of the agreement, he has agreed to publish a statement apologizing for his illegal conduct.
The case is prosecuted by the Justice Department's Environmental Crimes Section Trial Attorney Shennie Patel and the U.S. Attorney's Office for the Western District of North Carolina in Asheville. The case was investigated by the U. S. Fish and Wildlife Service's Office of Law Enforcement and the North Carolina Wildlife Resources Commission Division of Law Enforcement.