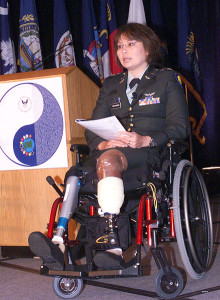 By Ed Diokno
With 18 House Representatives and U.S. Senators, including two non-voting members from the  territories of America Samoa and Northern Mariana Islands, the 115th Congress will have the most Asian American and Pacific Islander members ever. From the day they officially sit in their Capitol offices, they will face probably the most challenging session in modern history.
Two new AAPI candidates were elected to serve in the U.S. Senate and five in the U.S. House of Representatives. The new Congress will convene Jan. 3, 2017.
"The 115th Congress will include more women and minorities than ever before, which means that the people making decisions for Americans will better reflect the diversity of our nation." said Rep. Judy Chu (D, CA), Chair of the Congressional Asian Pacific American Caucus (CAPAC).
Congresswoman Tammy Duckworth (D-Illinois) won her Senate race and made history as the first Thai American elected to the U.S. Senate. California Attorney General Kamala Harris also won her Senate race, becoming the first Indian American elected to the U.S. Senate.In the House, we have our first Vietnamese American woman Representative-elect, Stephanie Murphy (D-Florida); first Indian American woman Representative-elect, Pramila Jayapal (D-Washingont); Indian American Representatives-elect, Raja Krishnamoorthi (D-Illinois) and Ro Khanna (D-CA); as well as returning members Colleen Hanabusa (D-HI), Rep Doris Matsui (D-Sacramento), Rep Judy Chu (D-Los Angeles County), Rep Ted Lieu (D-Santa Monica), Rep Mark Takano (D-Rivrside County), Rep Grace Meng (D-NY), Rep Tulsi Gabbard (D-HI) , Rep Ami Bera(D-Sacramento County) and Rep Bobby Scott (D-VA). Sen Mazie Hirono (D-HI) who began her six year term in 2013 will also be returning to Congress. "With these victories, CAPAC will have its highest AAPI membership in history, and I look forward to working with all of my colleagues to come together and move our nation forward," said Chu.
In addition to welcoming newly elected members, Chu also thanked departing CAPAC Chair Emeritus Rep. Mike Honda for his service."CAPAC thanks Congressman Mike Honda for his tireless work to champion issues critical to the AAPI community and to all Americans during his 16 years of service in the U.S. Congress," said Chu. "Our caucus would not be where it is today without his leadership, and his presence and commitment to advancing CAPAC's mission and goals will be greatly missed."
Democrats are also looking at reviving their party after the sound thrashing it received when Trump upset Hillary Clinton, when they were not able to gain enough seats in the House and the Senate, and when they lost heavily in the state legislators and among governorships.
Democrats, and hopefully a few like-minded Republicans who still revere country over blind party affiliation, will face an attempt to do away with the social programs instituted by President Franklin Roosevelt that have helped millions survive hard times, solidified a middle class and brought our country to become the most powerful, admired and influential country in the world.
The new AAPI members of the House of Representatives and Senate are all Democrats, which will be the minority party in both houses, so they will have their work cut out for them, not only to pass their own legislation, but to fight back against GOP attempts to bring the country back to pre-Great Depression conditions by …
weakening the safety net of social services and housing,
doing away with the Affordable Care Act,
privatizing Medicare,
weakening Social Security,
eliminating any government watchdog agencies that would prevent Wall Street and Big Businesses from running amock.
Plus, they will be fighting back some contemporary proposals from the GOP majority, including:
weakening of the Climate Change strategies advocated by the Obama administration,
fighting Trump's frightful immigration policies that includes building a wall between Mexico and the U.S.,
deporting millions of undocumented immigrants and their families,
imposing restrictions for Muslim immigrants or people from countries known to have a Muslim presence such as Indonesia, India, Pakistan and the Philippines, and
creating a Muslim Registry.
vetting the controversial nominees for Trump's cabinet
The freshman class of Capitol lawmakers are aware of the hurdles in front of them and some have made it clear that they won't set aside their ideals just to get along with their more conservative members of Congress.
Already, some big donors are looking at Sen. Kamala Harris as someone to consider for the as a potential presidential candidate. Among the newcomers to the nation's capitol, she probably has the closest ties to the outgoing president. She chaired Obama's campaign in California in 2018 and 2012.
The fledgling senator, whose immigrant parents hail from India and Jamaica, has made it clear that she will not be holding back to preserve the progress made under the Obama administration.
We cannot disengage or retreat over the next four years. We must remain steadfast in our fight for justice. pic.twitter.com/uSken6xTo8

— Kamala Harris (@KamalaHarris) November 28, 2016
Asked to react to Trump's statement on 60 Minutes that he wants to focus on potentially deporting immigrants with criminal records, Harris, the former Attorney General for California, cited her own experience.
"I have an experience with this kind of approach and what I have seen is when you say criminal, that's a very broad term. It's not a monolith. There's a whole range of behaviors that can qualify as being called a crime. A DUI is very different from rape. And as a career prosecutor I have constantly and consistently seen that one of the best tools in the tool belt of a predator of an undocumented immigrant, be it rape, be it domestic violence, be it fraud, one of the best tools that the predator has is to look at the victim and tell the victim, 'if you report this it is you who will be treated like a criminal.'"
"I have deep concerns about Sen. (Jeff )Sessions' nomination," Harris said in a statement. "Particularly, I am concerned with his support for policies that would undermine core Department of Justice functions and his views that are incompatible with constitutional guarantees."
"I will oppose a Muslim registry with every fiber of my being. That is not the American way of conducting afairs and violates every principle we stand for," said Ro Khanna, who unseated Honda and who will represent the mainland's only Asian American dominated congressional district. "And it's going to be increasingly important at this time in history to make the case that our very founding principles mean that every person should be judged on their merits not based on their race, religion or their last name."
"We have fought and won before," Jayapal told NBC News. "We have been through some incredibly dark times in the history of country, and we have moved forward. It hasn't been as quickly as we want, but we are extremely powerful when we are united."
The Muslim Registry and restricted immigration  "are the kinds of things that being Asian American, having recognized what happened to the Japanese incarceration, how every time there's a different type of crisis, it's people who are recognizable; in other words, people of color, people who are different, who are the ones that are singled out and how we have to protect against it. That's what it means to me," said Hawaii's Hanabusa.
Except for fourth-generation American Hanabusa, the new AAPI members of Congress are all first- or second-generation immigrants, so we would expect that the memories of the immigration experience is still fresh with them.
Being members of the minority party shouldn't be anything new to the AAPI legislators, they've survived the hard knocks of being minorities before in their private and public lives, so that experience will serve them in good stead.
Seventeen doesn't seem like a whole lot of influence, but there is cause for some hope. The 115th Congress is the most racially diverse Congress in our history. It would seem that the AAPI contingent would find natural allies with the African American, Latinos, and those who identify themselves as LGBTQ, another minority whose rights are endangered.
Women, too, no matter what race, could provide an opening among Republicans. There are some women Republicans (not a lot, but some) who are open for dialogue around family-planning and health issues.
Good luck to our AAPI representatives in Congress! They must know that besides their constituents in their respective states and districts, they will be our voice, too. They will need luck – and our support.

(NOTE FROM EDITOR: An earlier version of this story left out Sen Hirono. That brings the total number of AAPIs in Congress to 18)

AsAmNews has Asian America in its heart.  We're an all-volunteer effort of dedicated staff and interns. You can show your support by liking our Facebook page at  www.facebook.com/asamnews, following us on Twitter, sharing our stories, interning or joining our staff.